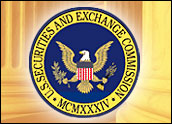 Take-Two Interactive Software on Wednesday said regulators have begun a formal probe of its options dating practices, a move that suggests a recent change of leadership at the company may not have put an end to the options questions.
The New York-based company disclosed the formal probe by the Securities and Exchange Commission (SEC) in a regulatory filing. The notice from the SEC came in the form of a letter dated March 15, Take-Two stated.
Take-Two received a "Formal Order of Private Investigation" and said the order enables the SEC to "among other things, to subpoena witnesses in connection with the SEC's investigation of the stock option practices" of the company, its board of directors, employees and executives.
Take-Two already has the distinction of having its former CEO Ryan Brant become the first chief executive to be convicted in connection with an options dating scandal. Brant pleaded guilty in February to charges of first-degree falsification of business records.
Plenty of Company
Take-Two is part of a lengthy list of companies — some 170 in all, by various counts — in and outside the technology sector that have wrestled with the options backdating issue.
While not explicitly illegal, the practice of dating options — typically done to coincide with dips in the market price of a stock, which in turn creates a higher net value for the options — must be disclosed to shareholders and regulators. Many companies are finding that options were backdated and that records of those grants were altered to cover up the fact the dates were changed.
Companies that have been caught up in the options dating zeitgeist include Apple — which said an internal review found "irregularities" but absolved CEO Steve Jobs of wrongdoing — BEA Systems, Broadcom, Intuit, RSA Security, VeriSign and Cnet Networks, whose CEO and chairman resigned after backdating issues were uncovered.
Take-Two's own inquiry has discovered some backdating of its options stretching back into the late 1990s and ending in the middle of 2003.
Take-Two also disclosed in the filing that it faces delisting from the Nasdaq Stock Market, in part because its internal audit committee of the board of directors is comprised of only two members, short of the required three.
Take-Two has also found itself under fire from state regulators for some of its games, including "Grand Theft Auto: San Andreas," which was discovered to have pornographic images embedded in it.
On the Block?
Best known for the "Grand Theft Auto" video game franchise, Take-Two has been the focus of shareholder activism in recent weeks that resulted in major changes at the board level at the company's annual meeting just last week.
Investors owning nearly half of the company eliminated almost the entire board of directors and replaced them with their hand-picked successors. Former BMG Entertainment CEO Strauss Zelnick is now chairman; Ben Feder is acting CEO.
The new directors will outline a new strategy for Take-Two within three to six months, Zelnick stated.
There has already been widespread speculation about what changes may be coming, including possible job cuts and changes in the costly game development approval process — which takes months and thousands of developer hours for today's graphics-laden and highly interactive games.
Take-Two also could be a target for acquisition by another game developer.
Full Iceberg Won't Surface
Meanwhile, investors seemed sanguine about the new options revelations, with Take-Two stock down just 15 cents, or 0.7 percent in afternoon trading Thursday to US$21.28.
So far, most of the companies that have been caught up in the options scandals have not seen major damage to their reputations or share values, University of Iowa business professor Erik Lie told the E-Commerce Times.
Even with the list of companies known to be looking into backdating growing, the vast majority of those who engaged the practice will never have it come to light, Lie predicted. "We will never see the full iceberg," he said. More than 20 percent of all options granted between 1996 and mid-2002 were likely backdated, Lie noted.
The practice was already beginning to ebb when revelations of its widespread use began to emerge, he added. More recent regulation has further capped the practice and regulators may not necessarily be interested in pursuing all cases involving backdating.
"Both the regulators and the investment community might be content to set some precedents based on a limited set of egregious backdating cases, to send a signal that backdating and similar behavior will be punished," Lie concluded.