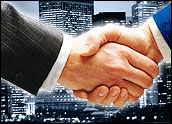 Google nemesis Viacom has struck a deal to have rival search engine Yahoo deliver advertising to its broadband-friendly Web sites.
Yahoo will become the exclusive provider of sponsored search and contextual ads on 33 Viacom sites, including MTV.com, VH1.com, Nickelodeon.com and ComedyCentral.com. The deal could be expanded to include some 140 more sites worldwide, the companies said.
Yahoo's new search marketing system, called "Panama," will run the advertising placement. This move is seen as a major score for the portal as it tries to use Panama — which utilizes more factors to decide what ads to display and in turn should boost how often users click on them — to make up ground on market leader Google in the search and contextual ad space.
Room for Expansion?
The companies did not disclose specific financial details; however, given Viacom's reach into television and recent moves into the mobile space, the deal could come with significant room for expansion and other synergies.
Viacom's sites are some of the most heavily trafficked on the Web, with 90 million unique visitors in February, according to comScore Media Metrix. Many of Viacom's sites are growing rapidly and are delivering a growing amount of streaming video content to users, the company stated. MTV.com delivered 93 million video streams in March, for instance.
Yahoo shares were up about 0.7 percent after the news broke Tuesday morning, to US$31.84. Google stock was trading down slightly at the same time.
In recent weeks, Viacom has been best known for its battle with Google and its YouTube subsidiary over the appearance of unauthorized Viacom-owned video on YouTube.
Viacom has sued Google, seeking $1 billion for what it says are tens of millions of viewings of its copyrighted video content without authorization.
Viacom has also partnered with Google rivals before. In February, it struck a deal to have YouTube rival Joost — a startup founded by the people behind Skype — distribute some of its video content.
High Hopes
Yahoo has told investors it believes it can increases its share of the online advertising market with Panama, which was designed to offer many of the same self-service advertising placement and ad-targeting edges that have made Google the dominant market leader in the space.
Viacom is the first major partner to sign on with Yahoo since Panama was rolled out. Investors will be carefully watching future Yahoo earnings releases for signs that Panama is paying dividends.
The deal is not a surprise, given that Viacom is likely eager to avoid making Google any stronger and because few other online companies could handle its advertising needs, search engine expert and Google book author John Battelle told the E-Commerce Times.
"This makes sense to keep competitive pressures balanced," he noted.