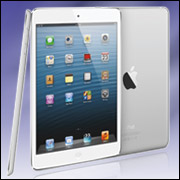 Tablets continue to gain momentum in the worldwide marketplace. The category is forecast to grow nearly 60 percent, surpassing laptop shipments this year and all PC categories by 2015, according to two reports released Tuesday by IDC.
Lower prices and smaller screen sizes are among the drivers for increased shipments and the resulting sales. The market intelligence firm cites a decline in the average selling price worldwide of 10.8 percent, meaning tablet sales have fallen from an average price of US$635 to $381. Much of the price adjustment has come from low-cost Android devices.
A second factor is the emergence of the 8-inch tablet category. This is where Apple followed the trend of the smaller tablet screen sizes made popular by Android devices with a 7-inch screen.
While the tablet market is gaining steam, the PC market is declining. Tablet shipments are expected to grow to 229.3 million units in 2013, according to IDC. In the same time period, worldwide PC shipments are expected to fall by 7.8 percent this year.
PC shipments will account for 321.9 million units in 2013, down from 349.2 million last year. While businesses continue to rely on PCs — either desktop or notebook models — both businesses and consumers are holding on to older machines. When considering upgrades, many consumers are opting to replace their desktop or laptop with a more portable tablet.
Size Matters
The "bigger is better" mantra is not necessarily true with tablets.
The iPad was immediately embraced and its 9.7-inch display was accepted as the ideal. Yet a number of Android-based tablets with a 7-inch screen size became popular enough for Apple to take notice and release the iPad Mini.
IDC believes the sub-7-inch tablet category has become the new market sweet spot and will overtake the larger-sized segment.
"Sub-8-inch is cheaper and more mobile. That is really it," Ryan Reith,IDC program manager, mobile device trackers, told the E-Commerce times. "We believe price differences are driving most of that trend as tablets are often (but not always) an additive device to a PC and smartphone. So price sensitivity is important. But also the fact that it is easier to carry around helps."
Portability helps sway consumers — as long as the features are there.
"Tablet sales continue to ramp up pretty remarkably," Charles King, principal analyst at Pund-IT told the E-Commerce Times. "I do think that there's some consumers, particularly young consumers, more mobile-focused consumers, who look at what kinds of entertainment and work communications they need from a PC, and many can get by with a tablet and a smartphone just as well."
Price is a secondary factor, as many families outfit each member with an individual tablet and many tablets are starting to show their age.
"Declining price points of tablets are certainly making consumer consumption easier. Most tablets so far have been passed down in some shape or form, but Apple's discontinued support for the first gen iPad (from a software update perspective) shows the life cycles in early iPads are roughly three years, and cheaper Android devices will be even less," said Reith.
PC Staying Power
While PCs including desktops and laptops will see declines, a few events on the horizon that could help maintain shipments. Those include the end of support for Windows XP, and the release of Intel's Haswell platform.
Intel is expected to release Haswell processors in June or July. These chips will run ultra-portable notebooks as well as hybrid devices including tablets with more notebook functionality. This comes just ahead of Microsoft's release of Windows 8.1. The two events together could account for a blip in an otherwise bleak shipping schedule.
"There's another thing coming down the pipe for PC's, Intel's Haswell platform," said King. "Supporting full-blown PC performance and all day battery life. I think when those things come to market, we will see a resurgence of PC's, or at least a stabilizing."
Consumers and businesses who stay on the PC platform will be faced with a decision in the next year. Microsoft will end its support for the Windows XP operating system. Many businesses are holding off on upgrades until the next version of Windows 8 is released, or even waiting until the end of the XP lifespan.
Feature-Rich Tablets
Tablets get a boost from their portability, apps and flashy features.
"Apps for simple things like Web browsing, email, social media and even streaming content are good enough that users are less apt to turn towards their (usually) larger PC," said Reith. "Mobility is a huge factor in this as well. PCs still serve a purpose that tablets may never fulfill, but a good chunk of the PC value-add has been removed with the introduction of tablets and applications."