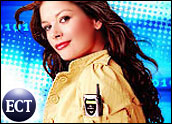 T-Mobile USA might target business users as an engine of future growth and profitability, but it says it won't try to match its much larger competitors by seeking mergers of its own.
Kai-Uwe Ricke, the CEO of the carrier's German parent company, Deutsche Telecom, said one strategic move under consideration is for T-Mobile to form a separate business unit to attract corporate users.
Ricke was quoted in the Financial Times of London as saying the company had ruled out trying to grow by acquiring regional carriers and that it could compete without mergers.
Small Size
"It does not matter whether you have four, five or six players, as long as our positioning is right, and as long as we have the critical mass," Ricke said. He added that the company expects its subscriber base to grow to 20 million by next year.
In the wake of the AT&T Wireless/Cingular and Sprint/Nextel hookups, T-Mobile is now the smallest carrier in the U.S. with national coverage, lagging well behind its competitors.
T-Mobile has around 17 million subscribers, about half that of its next smallest competitor. Cingular now has about 42 million customers after its buy of AT&T Wireless, Verizon has about the same number and Sprint/Nextel will boast around 33 million post-merger.
To date, T-Mobile has targeted mainly consumers with its marketing campaigns. Ricke said a decision could be made to target enterprise-level users, but only if T-Mobile found a partner to join in the push.
"We do not actually compete with Cingular or Verizon in a lot of areas," Ricke said, adding, "A new mobile phone brand for business customers is not ruled out."
Trickle Down Effect
Some analysts believe T-Mobile is in position to benefit from the mergers taking place around it, even without any dramatic moves of its own.
Those analysts say that price wars are less likely with fewer large players in the field, which in turn will help T-Mobile protect is strong profit margins. They also point to T-Mobile's growth trajectory, which makes it the second-fastest growing carrier in the U.S. in 2004. T-Mobile was known as VoiceStream until Deutsche bought it in 2001.
However, while they could unlock growth potential in the corporate environment, business users are sought mainly because of what they do to the bottom line. Because they purchase more add-on services and ring up more monthly charges than consumers, business users can help ensure long-term profitability.
Also, T-Mobile has a built-in advantage if it decides to tackle the market: The ability to offer global roaming plans to corporate customers, something that some of the other major carriers lack. In fact, analysts say some business users currently keep a second account — often with T-Mobile — that they use when traveling overseas.
T-Mobile's network is on the internationally accepted GSM standard, noted Gartner analyst Tole Hart. The only other major carrier that offers a range of global roaming options is Cingular.
In fact, more businesses might start asking for more robust international roaming options as the industry consolidates. "Business users, just like consumers, will come to expect more from their carriers," Hart said.
Competitive Disadvantage
Other analysts say the mergers do pose a risk to T-Mobile and that it needs to react in order to avoid being marginalized. That group believes the degree to which prices will stabilize in the wake of the mergers might have been overstated and that per-minute rates are likely to continue to work their way lower over time.
While selling T-Mobile might be a possibility — rumors of a Verizon purchase were circulating earlier this month — Jan Dawson, research director at Ovum, said U.S. growth and profits are helping T-Mobile's parent company deal with a slowdown in mobile growth in Germany.
"A sale to Vodafone might be a possibility," Dawson said of T-Mobile. "But it's not clear that Deutsche wants to give up that growth engine right now."