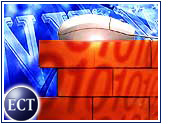 Traffic to Internet-only banks is decreasing, while multichannel financial institutions have watched their online activity double over the past year, according to a report released Wednesday by Jupiter Media Metrix (Nasdaq: JMXI).
The number of visitors at the Web sites of banks that also have a brick-and-mortar presence increased 110 percent during the year, from 6.4 million visitors in July 2000 to 13.4 million visitors last month.
Over the same time frame, visits to Web-only banks fell 8.1 percent, from 1.2 million last July to 1.1 million in July 2001.
The drop was even steeper for some specific pure-play banks. Both NetBank and E*Trade Bank recorded drops of about 33 percent.
"Online banking has moved from being a competitive edge to a commodity," said James Van Dyke, research director at New York-based Jupiter. "General-purpose, online-only banks, competing without branches and universally accessible customer service, are losing their lead."
Adapt or Die
Jupiter predicted that Web-only banks will look to developing a physical presence or focus on specializing to serve a specific audience in order to survive.
One problem, Jupiter said, is that even consumers who plan to only use a bank's Web site prefer to choose financial institutions that offer live customer service, ATM service and other real-world banking services.
"Online-only banks need to focus on their greatest area of opportunity," Van Dyke said. "That opportunity is the ability to reach a specifically targeted client set a strategy that would be almost impossible for a larger, more established bank to execute."
Banking Up
While pure-play banks are struggling, the number of consumers using online banking overall is increasing. Traffic to all bank Web sites rose more than 77 percent during the past year, far outpacing overall Web traffic, which grew less than 20 percent.
The strongest performing multichannel bank was Chase Manhattan Bank, which saw traffic nearly triple, from 957,000 visits in July 2000 to 3.6 million this year. Other big gainers include Citibank, which had traffic increase 101 percent, and Bank of America, which grew 119 percent.
Web-only banking has been notoriously slow to grab consumers' attention. In fact, Bank One, which launched Internet-only Wingspan Bank to much fanfare, recently decided to merge the bank with its other Web projects.
Europe Ahead
While Americans have been slow to adopt online banking, Europeans have embraced it much more quickly.
An earlier Jupiter study found that 20 million Europeans visited online banks in May, with 60 percent of all consumers in Sweden doing at least some banking online.