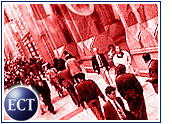 Even when a dot-com's departure is less than momentous in the eyes of the general public, the exit can signal a change in direction for electronic commerce.
Take, for example, the case of Bank One, which announced last week that it is going to integrate its pure-play Internet bank Wingspan into its other Internet initiatives. When the decision was announced, many industry observers said a collective "I told you so."
Whether the term "pure-play" is destined to disappear from the e-commerce lexicon altogether is up for debate, but when it comes to banking, consumers have made themselves clear.
Given that banking online with their regular bank has not exactly dazzled consumers, the outlook for pure-play banks with no brick-and-mortar component is especially grim.
Good Intentions
Casual observers might ask how Bank One, the fifth-largest bank holding company in the United States — with reported assets in excess of US$270 billion — could make such a gargantuan blunder in judgment.
Was it all just a great experiment? Were the bank's principals waiting to see if Wingspan could indeed fly? Did the company sincerely believe that a pure-play bank would fill a niche for American consumers?
Considering the capital expenditure to create Wingspan and the ambitious efforts to maintain it in the marketplace, chances are it was no experiment. Instead, it appears to be a gross overestimation of the level of commitment consumers have made to their keyboards as a place to do business.
Bases Covered
From a glance at the drawing board, it looks like pure-play banks did not overlook any options in creating their online offerings. Wingspan offered generous interest on checking accounts, as well as online bill paying services, certificates of deposit, credit cards, investment research, mortgage loans and a network of automated teller machines (ATMs).
Sounds great. So what went wrong?
According to a study from Meridien Research, released just one week before Wingspan was clipped, banking customers are looking for value-added services from their banks.
"Pure online banks are beginning to look like failed dreams," Meridien analysts Christine Barry and Jennifer Schmidt wrote at the time, prophetically.
Pioneer Days
It's unfortunate that companies of the caliber of Bank One are forced to go through these expensive exercises to find out what works in the market, but if these pioneer days of e-commerce are about anything, they are about trial and error.
Pre-judging a consumer base that is moderately flexible at best, and resistant at its worst, is a difficult proposition.To its credit, Bank One is still moving ahead with Internet initiatives.
Back in 1999 when it launched Wingspan, it also entered into aggressive co-branding online financial services with Excite and America Online. Even though some pure-play online banks had already been absorbed by traditional banking companies, and industry insiders believed its debut of Wingspan was high-risk, Bank One persevered.
All About Options
There's a recurring lesson that keeps presenting itself to e-commerce companies. Consumers want to decide for themselves what works for them.
Meridien's research said that successful online banks will likely be extensions of existing offline banks. Consumers have made it fairly clear that they want to maintain their relationships with existing banks and creditors.
Meridien suggests consumers want access to their banking products through branch offices and ATMs, as well as through their personal computers.
Further, the research forecasts the number of active Internet banking users throughout the world will increase from the current 23 million to 32 million by 2003. Considering the size of the wired world these days, that is not a tremendous growth rate.
Consumers will have to be courted, persuaded and have their requests for options honored by banking institutions.
Subtle Reminders
The ongoing demise of pure-play online banks should be a wake-up call to dot-com dreamers who still believe e-commerce can change the world. All the Internet is going to do is add something useful to existing commerce.
E-commerce was never supposed to replace traditional business or displace conventional institutions.
What do you think? Let's talk about it.


---
Note:
The opinions expressed by our columnists are their own and do not necessarily reflect the views of the E-Commerce Times or its management.
---