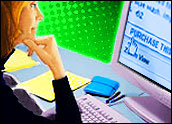 One twentieth of a second. That's about how long it takes for a Web site to make a first impression on an Internet user, according to researchers at a Canadian university, whose findings could have competitive impacts for businesses on the Web.
Dr. Gitte Lindgaard and colleagues from Carleton University's Human-Oriented Technology Lab in Ottawa approach "art with science," they said. The researchers flashed Web sites for 50 milliseconds and asked study participants to rate them for visual appeal. The study authors later repeated the exercise for a longer viewing period and concluded with consistent results.
"Visual appeal can be assessed within 50 milliseconds, suggesting that Web designers have about 50 milliseconds to make a good impression," said the report, published in the journal Behaviour & Information Technology.
Lasting Impressions
What's more, the researchers reckon the study results produce a halo effect: the first impression creates an initial bias that drives long-term opinions.
If the user thinks the Web site looks good, the impression translates to other areas of the site, like its content. Since people like to be right, Lindgaard reasoned, they will continue to use a Web site that made a good first impression.
"Unless the first impression is favorable, visitors will be out of your site before they even know that you might be offering more than your competitors," Lindgaard said.
Quick and Clean
Lindgaard and his colleagues had originally believed it would be impossible to actually see anything in less than 500 milliseconds. It typically takes 50 milliseconds to read one word, according to some estimates.
Internet marketing and design expert Pedro Sostre told the E-Commerce Times he is surprised to hear that consumers are able to make such a decision so quickly. But he does not doubt that the subconscious has triggers. He believes the consumer subconscious is well-conditioned to design.
"Consumers are becoming more and more design-savvy every day — and they may not even know it," said Sostre, principal and creative director of Sostre & Associates, a Web consulting, design and developer. "Just by interacting with various catalogs and Web sites, they are becoming design critics."
Anatomy of Web Aesthetics
Sostre said various elements could almost immediately register with the Internet user's subconscious. It could be something simple as fonts.
If the user is searching for a professional services firm and finds content displayed in a cartoonish font, they perceive that something is wrong.
It could also be inappropriate color psychology, or a confusing layout. Sostre said misuse of any of these elements could make a bad first impression.
Sprint's Bright Idea
Sostre points to the redesign of Sprint's Web site in the wake of the Nextel merger as an example. Sprint changed its Web site to a bright yellow. Power tool maker Dewalt also uses this color.
As a result, Sostre said, "Many customers thought they were at a power tools site when they saw the new Sprint site. They went to the site looking for an electronics device, and yellow doesn't make any sense to them. Those are the types of things that customers subconsciously 'know,' but may not be able toidentify, that may cause them to go with Cingular or AT&T."