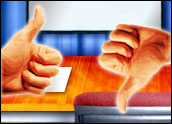 A Like on Facebook goes a long way. Seventy percent of consumers who engage in social media make purchases from brands they are connected to, according to a new study released by SocialVibe.
Connections form when a consumer clicks Like on Facebook, Follows a brand on Twitter or interacts with a brand's presence on other social networks including YouTube, Pinterest or Google+. Nineteen percent of consumers make purchases "often," and 29 percent make purchases "sometimes" due to brand connections, SocialVibe found.
"It's been shown that there is a direct correlation between a consumer being connected to a brand online and that consumer's likelihood to consider a brand and make a purchase," SocialVibe CMO John Capano told the E-Commerce Times.
How this happens depends on a lot of factors related to the consumer, the channel, the product and the marketing strategy, he added.
The consumer might connect with a brand to share affinity; however, as many as 20 percent of consumers connect to gain access to special offers. This type of relationship occurs for new customers and repeat customers, many of whom are interested in making additional purchases, suggests the SocialVibe report.
Feedback Loop
"There's really an extraordinarily broad range of value. There are consumers who follow brands because they genuinely love the brands. At the same time, with the rise of social networking, there are people who follow brands because there's something in it for them," Rebecca Lieb, analyst at the research firm Altimeter Group, told the E-Commerce Times.
Brands often post coupons to followers on social networking sites. Some brands often run contests that their followers on Facebook or other sites can take part in.
"People often follow brands on social properties not because they love them, but because they're trying to get something," noted Lieb.
Some consumers are just looking to keep up with a particular brand. Sixteen percent of consumers connect with a brand to stay up-to-date with news and information, according to the SocialVibe study.
Connections to brands occur at different stages of a consumer's purchase cycle, including after purchase. Marketers can use post-purchase Likes to continue to work with consumers.
"We see it as a positive feedback loop. Consumers that are connected are more likely to make purchases and consumers that make purchases are more likely to connect," said SocialVibe's Capano. "Consumers will conduct research by visiting a brand's website, visiting other websites and communities, connecting to friends/family online and also connecting directly to the brands they are considering — all before making a purchase."
All Likes Are Not Equal
A Like on Facebook or a connection on another social networking site doesn't always equal intent to buy. Some consumers feel an affinity to a brand even if they don't intend to purchase. That doesn't mean the Like is meaningless, though.
"There's all different sizes and flavors of Like, and not all of them indicate purchase intent," said Altimeter's Lieb. "That said, it's very important not to consider social relationships as a direct marketing medium."
Brands still benefit from Likes from consumers who don't intend to buy. The Like builds momentum for the brand. It also lets the brand connect with a consumer's friends through sites like Facebook or Twitter, and the Like can act as an endorsement.
Both consumers and brands use social networking platforms as a way to resolve issues and collect customer feedback. Whether through direct messages or posts and tweets, companies can use the social networking forum to respond to consumer complaints. These practices are deployed by companies including Comcast, Dell, Best Buy, JetBlue and American Express.
"Not every Like has love in it," cautioned Lieb. "Following can be not because of brand advocacy, but because there's a problem with the brand. If the problem is resolved, it can be turned into a plus instead of a minus."
To keep these connections open, brands need to stay active and engage the consumer. There is a delicate line of balance, however. Thirty-seven percent of consumers terminate their connections by un-liking or un-following on social platforms, reported SocialVibe, and a third of consumers who disconnect from brands do so because they receive too many updates.
"The first thing that brands need to do is make the appropriate commitment to the channel," said Capano. "If you are going to build a community or social connection to your customers and prospects, you need to continue to foster that connection."
To keep consumers from clicking the un-follow button, brands need to remain relevant and keep messaging fresh.
Brands need to be strategic in what they do in social, Capano emphasized. "Brands should ask themselves — and their customers — 'What role do I play in the consumer's life?' and 'What role is it appropriate for me to play in the consumer's life?'"