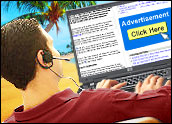 When online advertisers use pay-per-click advertising, as much as 15 percent of the clicks they pay for could be fraudulent, according to the results of a new study announced Friday.
Under a pay-per-click (PPC) agreement, an online advertiser must pay for every time a potential customer clicks on its ad. However, click fraud — which is what happens when unscrupulous search engine publishers arrange for repeated clicks on particular ads in order to increase revenue — is becoming increasingly common, analytics firm Fair Isaac announced at the InterACT conference in San Francisco last week.
Online robots, also known as botnets, and "click farms" of low-cost workers in remote countries are two ways this fraud gets perpetrated. Another common form occurs when employees of one company click on a competitor's ads to deplete its advertising budget and dilute results.
More Sophisticated Scams
However it is done, the result is more clicks on an ad and higher bills for the advertiser — without the corresponding increase in business.
"Marketers have embraced pay-per-click advertising, but ways to defraud the system also have become more sophisticated," said Gord Hotchkiss, chair of the Search Engine Marketing Professional Organization (SEMPO), which participated in Fair Isaac's study.
"These are early results based upon a limited view of the market," said Joseph Milana, chief scientist in Fair Isaac's Research and Development group. "We're looking for more advertisers to contribute to the study to help us arrive at a solid picture of the problem's size and scope across the broader marketplace and different vertical markets."
Getting Worse
Another study, this time by Click Forensics, found similar results. For the first quarter of 2007, Click Forensics estimated that 14.8 percent of clicks on online ads were fraudulent, representing an increase over the year-ago period's figure of 13.7 percent and even over the previous quarter's level of 14.2 percent.
"The problem does appear to be getting worse over time," Tom Cuthbert, president CEO of Click Forensics, told TechNewsWorld. "There are greater financial incentives on content networks, and the tools to commit click fraud are becoming more sophisticated too."
Indeed, while 14.8 percent was the number Click Forensics found as an average figure, it was more than 20 percent on content networks such as Google AdSense, Cuthbert said.
Content networks are "a step away from the search provider," Cuthbert noted, making it harder for the provider to monitor ad traffic than it is on its own site.
"Click fraud seems to be following a similar path as other online fraud schemes such as spam and phishing," Cuthbert said. "The problem is growing as fraudsters fine-tune their methods."