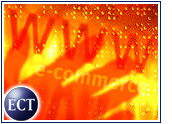 Aiming to dispel doubts about the value of online advertising, the Internet Advertising Bureau (IAB) said Wednesday that three studies reveal that traditional banner ads boost brand awareness and drive purchases while new, larger ads are even more effective.
Studies commissioned by the IAB and two of its members — MSN (Nasdaq: MSFT) and DoubleClick (Nasdaq: DCLK) — found that new, larger ads, known as Interactive Marketing Units (IMUs), "improve key branding metrics" by 40 percent on average.
"Rather than saying bigger is better, I like to saythe new IMUs are working," Robin Webster, IAB president and chief executive officer, said during a press conference. "If you add in rich media, the ads become even better marketing and brand-building vehicles."
The studies also found that rich media advertising such as audio, video and flash presentations "deliver greater impact and conclusively increase branding effectiveness," the IAB said.
In all, 170,000 people were surveyed on the effectiveness of online ads.
Beyond Clicks
A common theme of the studies was that online advertising works even if it does not immediately drive Internet traffic or purchases.
"For a long time we were too focused on the almighty click through," Webster said. "But the click does not help us learn anything about whether we're increasing brand awareness."
In fact, 99 percent of all online advertisements are never clicked on, the IAB noted.
Measure by Measure
The survey results will no doubt be welcome news to the sectors of the online advertising industry attempting to move away from using click-through rates as a measurement of ad effectiveness.
Earlier this month, CBS MarketWatch made news by saying it would not longer report click-through rates to advertisers, unless they ask for such reports.
Skyscrapers Tops
The IAB's own study, which included a survey of 8,750 Web users, found that the new larger ad units are 25 percent more effective at raising brand awareness and message association than banner ads. Advertisements from British Airways, Salon Selectives and Homestore.com were examined.
As for ad shape, so-called skyscraper ads — long, skinny upright banners — proved most effective. Ad placement made a difference as well, Webster said, with ads displayed during a transition from one Web page to the next outperforming those placed within or on top of a page.
Soothing Doubts
The DoubleClick study found that traditional banner ads boost brand awareness by 56 percent while larger ads boost those measures 86 percent.
DoubleClick's president of Global Media, Barry Salzman, said the studies should help answer doubts about online marketing.
"There has been little clarity about how the Internet really works for branding," he said. "What we've learned is that as an industry we must begin to embrace new sizes, formats and page implementation methods as complementary tools for reaching traditional brand marketing objectives."
Supporting Data
The MSN study reported similar results, with larger ads outperforming banners and skyscrapers performing best. The MSN study focused on advertising on the Microsoft network.
"The new units can be two to three times more effective in increasing message association than traditional standard banners," said Jed Savage, director of national sales for MSN.
All of the studies are backed up by an earlier report from Jupiter Media Metrix, which found that the online ads are undervalued for their ability to boost brand awareness.