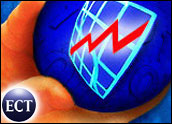 Blue Martini Software (Nasdaq: BLUE) picked up 3 1/2 to 10 1/2 Tuesday after afavorable mention in Barron's magazine, reports said. The stock was reportedly cited as a top pick in the influential finance magazine, which was released over the holiday weekend.
San Mateo, California-based Blue Martini provides software aimed athelping companies understand, target and interact with customers. Among thecompany's clients are Polaroid Corp., Saks Fifth Avenue, Harley-Davidson andLevi Strauss & Co.
The firm formed an alliance last week with Apropos Technology that callsfor joint integration of products, as well as marketing and sales campaigns.
Blue Martini's call center technology will be combined with Aproposmanagement products to allow customer queries that come in by phone,Internet, kiosk or wireless technology to be prioritized based onpre-defined criteria.
"Customers adopting this joint solution should benefit from this integrationthrough improved efficiency," said Blue Martini vice president for business development Chip Overstreet.
Also last week, the company announced an expanded relationship with computermaker Hewlett-Packard Co., saying its products are now being shipped as partof HP computer systems.
Over the past year, Blue Martini shares have traded as high as 77 5/8 and aslow as 7.
The company reported third-quarter revenue of US$21 million, up 485 percentfrom a year earlier. The company lost $6.9 million, or 12 cents per share,before special charges, compared with a pro forma loss of $1.9 million, or 4cents, in the same quarter a year earlier.