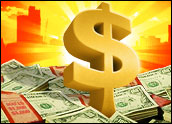 Businesses that have been advertising online for some time may well have the sensation of being the early arrivers in an increasingly crowded room.
As more ad dollars flow online, marketers are increasingly bumping into one another, elbowing for space and bidding up search keywords and other prime online advertising real estate.
More Money, More Details
The result is a booming market. However, costs and complexity of the ads continue to increase for the merchants and other businesses attempting to use the Internet to reach customers, attract them to their own Web sites and convert them from shoppers into buyers.
Research firm eMarketer says advertisers spent an average of US$71.51 toward online marketing for each U.S. Web user during 2005, a number that will grow to more than $88 this year and approach the $100 mark in 2007.
The 30 percent overall growth rates of recent years may not be sustainable long-term, eMarketer analyst David Hallerman told the E-Commerce Times, but the pressure on ad prices and fierce competition for the best placement will continue to drive up ad costs.
"Ad dollars continue shifting to the Internet and will continue to do so as new opportunities open up, such as video," Hallerman said.
Online ad spending increases have been driven by the ability to measure campaigns effectively and the relatively high return-on-investment. Rising prices will pressure that ROI.
As a result, for many businesses the question is not whether to advertise online or even where or when, but rather how best to stretch every dollar spent.
Help on the Way?
Not surprisingly, software and services vendors are moving into the increasingly expensive and complex online ad space, offering to cut through the clutter and help businesses extract every possible dollar out of their ad investments.
John Rodkin, CEO of recently launched ClickShift, said his experience at U.S. Venture Partners — where he became a partner after selling his previous startup, FlySwat, to NBC Interactive in 2001 — showed him that businesses need help.
"A lot of the companies I saw as a venture capitalist were looking to attract traffic in an optimal way and at the same time you were seeing fast-rising keyword prices," Rodkin told the E-Commerce Times. The combination resulted in a "problem ripe for automation."
The ClickShift solution automates the keyword selection and placement process, using a powerful algorithm-based analysis engine to determine the best course of action for any given campaign.
"We start with the business objective because that's what's unique in each case," Rodkin explained. The solution can recommend other likely keywords and suggest the best ways to deploy them to meet a specific goal, such as to sell down inventory or interest shoppers in a specific offer.
The type of solution offered by ClickShift is likely to become even more important in the future, as online advertising becomes even more sophisticated. Already, Google, Yahoo and others have added day-parting to let advertisers target specific hours for their ads to appear, and Microsoft has promised a platform that can precisely target certain demographic niches.
The Pressure's On
"That stuff happens precisely because keyword prices keep going up and because more and more dollars are flowing online," Rodkin said. The pressure to keep the return on investment rising is immense, meanwhile, with keyword prices doubling in some instances. Add in the arrival of video advertising and other forms of online targeting and you have a growing conundrum for many businesses. In addition, more big-ticket sales moving online means more longer-term purchase considerations, with a shopper possibly clicking on an ad and not completing a purchase until several months later.
"It gets more and more complex and more difficult to get the same efficiencies and the same return on investment," Rodkin added.
There are a few steps that can help maximize the value of online ad spending. For instance, Captiva Marketing suggests attention to all details that affect any given campaign, such as carefully designing landing pages so that those who do click on a paid link are brought to the location where they can take action. Also carefully analyzing buyer actions after-the-fact is important.
Still, many businesses may be relying too much on instinct and making decision on the fly, said Robert Murray, the president of interactive marketing firm iProspect. Murray cited data showing that the people in charge of search engine marketing in many businesses are also responsible for handling as many as five other non-marketing tasks.
"I don't know how an organization can expect someone to become proficient at search marketing if they only practice it part time," Murray said. "Organizations should be mindful that search marketing is complex, time intensive, and requires dedicated resources — it is the rocket science of marketing. Search marketing requires dedicated resources."
While they may add costs up front, investments such as hiring a third party firm or creating the in-house expertise needed can pay off in the long run. "Better campaigns will be needed to keep businesses getting the payback they've come to expect from online ads," Rodkin concluded.