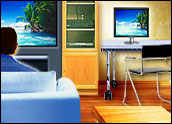 The digital lifestyle has taken root in U.S. living rooms, primarily with the TV set and the home PC — and, like the couch potato, it's beginning to spread.
From set-top boxes and time/place shifters such as TiVo and Slingbox to iPod's home stereo and TV component, the shift seems to be centered on fun and games.
Still, the play to own the home market is serious business, and would-be players are crawling out of the woodwork.
Competing Platforms
"Microsoft, Apple, Sony, TiVo, Motorola, Cisco, PC OEMs (original equipment manufacturers), and others are all vying for a share of the new home market. Each has their own competitive strength derived from leveraging their platform," said Michael Wolf, research director, digital home, ABI Research.
For example, Wolf told the E-Commerce Times, Microsoft has strength in software and gaming platforms; Apple is leveraging its portable devices and iTunes service; and Motorola and Cisco are coming at the market from a set-top box and mobility perspective.
However, service providers are also shouldering past the crowd to grab market share.
"Service providers — particularly in broadband access and television delivery — view the deployment of Web-connected home applications as service differentiators and a means to promote customer loyalty," Kurt Scherf, principal analyst and VP at Parks Associates, told the E-Commerce Times.
Carriers will seek to monetize their customer premise equipment (CPE) deployment by tying them into additional services, Scherf said, notably voice and multimedia.
"We expect them to deploy residential gateways (RGs) as part and parcel of their next-generation voice services and multi-room video applications," he added.
Disorderly State of Affairs
As the telcos — and, likely, cable operators and satellite providers in quick succession — become more aggressive in offering music and video services to supplement their broadband, television and voice offerings, they will seek residential gateways and set-top box platforms that support multi-room distribution of this content, predicted Scherf.
"Therefore, we can expect to see a shift from a market largely dominated by retail sales to one in which broadband and television operators and carriers themselves become greater participants in home networking deployment, monitoring and troubleshooting," he commented.
With such a scramble to define and snare the Web-connected home market, the landscape can appear a bit confusing.
"The current state of the Web-connected home is disjointed," said ABI's Wolf, "but it's coming together. The network is figured out from a physical connection technology perspective, but now it's about the more complicated issues of content protections, media management and business models."
In order to make sense of this unwieldy evolution, Continental Automated Buildings Association (CABA), a nonprofit industry association that promotes advanced technologies for the automation of homes and buildings, has defined the primary elements of the movement.
There are two paths to the connected home, according to CABA. The first is comprised of solutions that make life easier, more comfortable and cost-effective. The second is made up of solutions that entertain or support 24/7 communication. When the two meet and merge, the house is considered a fully Web-connected home. Obviously, most homes aren't there yet.
Seamless Integration?
"To date, home connections are about basic networking from PC to printers, scanners, laptops, keyboards, that type of thing," Charles Golvin, principal analyst at Forrester Research, told the E-Commerce Times. "That's what has driven connectivity within the home, [but] people want to connect more things."
While CABA described two paths, Golvin identified three phases.
"The first phase was basic PC networking in the home. The next phase, the one we are just now entering, is more entertainment-oriented. The subsequent phase will be home automation," he predicted.
With home automation, dumb machines — from laundry appliances to lawn sprinklers — get in on the act. Just about any mechanical tool in or around the house will soon be able to drop you an e-mailed status report or call you for help.
Despite all this exciting innovation and rapidly rising buzz, there is, by general consensus, only one impediment to progress — but it's a dilly.
"Even if you are tech-savvy, it is still very difficult to connect everything and make it seamless. It's just plain tough to make it all work," Golvin remarked.
Scrambling Ahead
So, what's likely to make it through the Web-connected but proverbial wash? Which of these emerging ideas are likely to room with you, and which are likely to get booted out the door?
"Wireless in every conceivable flavor is moving in. High definition over the Internet will stay. Analog is moving out, both for entertainment delivery and communications," said ABI's Wolf.
There are also several disruptive technologies on the horizon, he noted, that will evict some players before they get their bags fully unpacked:
Wireless HD — Be it WiFi, UWB (ultra wideband), or even wired technologies such as Pulselink's 1394 over UWB over coax — is going to be important, as HD will be the premium and most in-demand content over the next 10 years.
Media servers — Centralized storage and management of content that is delivered over consumer's networks is likely to be the predominant usage model in 10 years. The key is which device will be the platform — PC, set-top box or gaming console. Most likely, it will be a mix of all three.
IPv6 — Having a network address for every device will be important and very much a reality in five to 10 years, and IPv6 will make this possible.
In any case, the Web-connected home is still in its infancy. It is yet to be seen whether it turns into Big Brother, babysitter or helpful handyman — or some combination thereof — when it grows up.
One thing is certain, home will never be the same again.