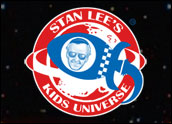 Comic book legend Stan Lee wants kids to join him on his next superhero adventure.
The 90-year-old creator of Spider-Man and cocreator of Iron Man, Thor and the rest of the Avengers this week launched Stan Lee's Kids Universe as part of a joint venture between his POW! Entertainment and 1821 Comics. The online property was announced at New York Comic Con.
Stan Lee's Kids Universe is a portal for content aimed at children up to 10 years of age. The portal has sections for books, games, videos, events and contests. Arts Corner is an outlet for kids to upload their own works and drawings.
"It's a good way to target a new audience," Billy Pidgeon, senior analyst at Inside Network Research, told the E-Commerce Times.
The site is still new and the categories are just starting to fill with content. One game, Goobeez Pirate Adventure, is currently available for the iPhone and iPad. More games, including Monster Ladder App Game and Hero Petz, will be added when they are complete.
"The fact that they have iOS apps is a strong marketing technique here. That's one of the best ways to reach very young kids, on their parent's iPhones and iPads," said Pidgeon.
The site also offers print books as well as digital versions. E-Books and videos include stories read by Stan Lee himself.
Adapting to New Audiences
Stan Lee may be 90, but he is showing an interest in new media. Stan Lee's Kids Universe is a way to capture an audience that is increasingly finding content and entertainment online and in apps, rather than drawn on the pages of a comic book.
"Stan Lee's Kids Universe is just what the medium and industry needs — one of the most influential mythmakers creating fiction for today's children and tomorrow's heroes," Joseph Phillip Illidge, co-founder and head writer for Verge Entertainment and writer for First Second Books told the E-Commerce Times. "With more young people adapting to new technologies, Stan's launching of his Kids Universe online means finding the audience at their destination, instead of following them."
The young audience also means parental involvement for buying e-books and other content. "At that age the purchasers typically are parents, and if kids are making the purchases there could be trouble," said Inside Network Research's Pidgeon. "It's best to target transactions to parents."
Comic Book Industry Support
While the portal bears Stan Lee's name, it offers content from other writers, artists, developers and contributors. The content skews younger than audiences targeted by some comic book artists, but the industry largely supports the move, said James Palmiotti, an American writer and inker of comic books who also writes for games, television and film. Kids Universe will capture the interests of children, who may grow up to read, or even create, comic books in future media formats.
"Stan has always been looking for new ways to get his ideas out to a broader audience," Palmiotti told the E-Commerce Times. "His new project is another step to recruit the younger readers that are growing up in the digital age to fall in love with the medium of graphic storytelling."
A portal offering print and digital content for children may be just the first step into new media for Stan Lee.
"This news is probably Stan and his crew testing the waters before bringing even more properties to the online community," Palmiotti said. "Knowing Stan, there will be more and exciting properties coming, but with these, he is off to a good start."