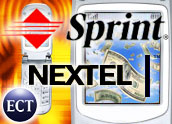 In a deal that further reduces the number of large wireless companies in the U.S. and leaves three heavyweight companies to duke it out, Sprint said today it would buy Nextel Communications for about US$35 billion in stock and cash.
The merger, rumors of which began to circulate last week, will instantly double Sprint's base of subscribers to some 35 million, creating a more powerful No. 3 wireless carrier behind Cingular Wireless and Verizon Wireless.
Assuming it passes muster with antitrust reviewers — which analysts say is likely to happen, although with some forced divestitures along the way — the merger will give the top three carriers control of nearly 70 percent of the U.S. wireless market.
That fact is not lost on consumer advocacy groups, who have already begun to sound warnings that the rampant consolidation in the wireless industry will result in higher bills and fewer choices for subscribers.
Merger of Equals
The combined company will employ about 78,000 people, though executives acknowledged during a press conference that layoffs are expected as the merged company seeks to leverage potential cost savings. Both companies are emphasizing the combination as a "merger of equals" and note that shareholders of the two standalone companies will each own 50 percent of the merged entity.
Though it will still lag behind its main rivals in terms of subscriber roles, the new company will be a formidable competitor because of its stronger-than-average per-customer revenue performance.
Both companies rank among the best in the industry in terms of ringing cash out of each subscriber, which analysts say is a reflection of the fact that both have substantial numbers of business customers.
Competition Question
"This merger positions Sprint Nextel for greater success than either company could have achieved alone," said Gary Forsee, Sprint's CEO, who will take on the titles of president and CEO of the combined firm.
Forsee said Nextel's push-to-talk innovation and its strengths in profitability and with selling to business and government markets will dovetail well with Sprint's advantages in the areas of advanced wireless data services and global IP voice and data networks.
Company executives seemed eager to address any objections to the merger on the basis it would squelch competition.
"This is a pro-competitive combination that will provide customer choice and create exciting new opportunities for all of our constituencies," said Nextel CEO Tim Donahue, who will serve as chairman of the combined company.
Consumer groups aren't so sure, however. The Consumer Federation of America (CFA) and the Consumers Union (CU) have derided the trend of consolidation in the wireless industry and have warned that consumers will soon face fewer choices and higher monthly bills as a result.
Gene Kimmelman, director of public policy at the Consumers Union, said the mergers present a number of problems from the competitiveness viewpoint, including the fact that Sprint still has a wire-line long-distance business and has rolled out some local calling services.
"The consumer is going to be increasingly faced with a choice of one giant company or another, if they have choices at all," he said.
Long Road Ahead
Analysts say the two companies have a lot of work ahead of them, not only in bringing the two cultures together, but also in aligning their technologies for the best effect in the marketplace.
Gartner analyst Ken Dulaney said the merger isn't about growth as much as it is survival — combining became necessary after Cingular merged with AT&T Wireless, he argued.
"Smaller companies will find their niches and some may thrive, but to be a national player requires having the customer base and the network that is comparable to what the big two have," he added.