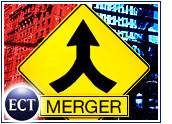 With the impact of the last major merger still rippling through the wireless communications industry, another major combination might be in the works, with No. 3 Sprint and fifth-place Nextel said to be contemplating a combination.
The merger would create a larger and more robust No. 3 wireless giant that analysts say would be better equipped to compete with No. 1 Cingular and second-place Verizon Wireless on wireless service, coverage and price. The merged company would have just under 40 million customers across the U.S., many of them small- and mid-sized businesses.
In fact, analysts say the strength of this particular proposed merger is that it would combine Sprint's strengths in the enterprise sector with the small-business appeal of Reston, Virginia-based Nextel, whose push-to-talk, or walkie-talkie, feature is widely used among small businesses that have workers in the field. Sprint is headquartered in Overland Park, Kansas.
Because they sell more to businesses, both companies also have per-subscriber revenue numbers that are above the industry average.
Neither company is commenting on reports that they have been in detailed talks about a merger for weeks and are now focusing on final details, such as where the combined company's headquarters would be located. However, investors welcomed the speculation, sending Sprint shares higher by more than 3 percent in morning trading today to US$25.07. Nextel shares were initially higher, but then sagged, losing 2 percent to $29.20.
Consumers in Jeopardy?
Most analysts expect the deal to be approved by regulators, though probably not without both companies selling off some spectrum licenses in key markets in order to maintain competitive balance. Most market watchers believe regulators will only begin to halt mergers if it brings the number of major cell carriers below four.
Still, consumer groups are likely to raise questions about the merger. Several, including the Consumer Federation of America and the Consumers Union, have argued that the result of the massive consolidation in the industry is dwindling choice and higher prices for consumers. The groups say the impacts of the mergers might be magnified because up until now, fierce competition has been good for consumers.
"Cell phone consumers have come to expect lower prices and better service options as a result of the robust competition," Gene Kimmelman, senior director for public policy and advocacy at Consumers Union, said.
Consumer groups are especially wary of cell phone mergers involving companies that have land-line businesses. Sprint still maintains some long-distance services, though the bulk of its business now derives from wireless subscribers. "Companies aren't going to compete against their own wireless services," Kimmelman added. "They're more likely to leverage their markets to raise prices across the board.
Get Big But Stay Fast
Mergers and acquisitions expert Larraine Segil of Vantage Partners said wireless companies recognize that size matters now and in the future, as carriers forge partnerships with everyone from content providers to handset makers in order to offer customers the best range of choices.
However, she added: "Competitive advantage will not only be in size. It will also be in ability to be flexible and move fast, not a characteristic of most telecom companies. The challenge here will be whether Sprint and Nextel, by merging, will create a monster of bureaucracy or a more important competitor?"
Being a better competitor will require merging the different cultures; both companies are products of past mergers, she noted.
"The synergies are there, but the cultural issues should not be overlooked," Segil added.