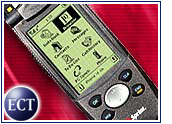 Sprint Corp. (NYSE: FON) fell toUS$24.23, dropping 57 cents in early trading Thursday, while its Sprint PCS division rose 63 cents to$31.13, after the companies released fourth-quarter results.
Sprint, a Kansas City, Missouri-based long-distance telephone company, saidrevenue for the fourth quarter ended December 31st was $4.39 billion, down from$4.42 billion in the year-earlier quarter. Operating income fell to $598million from $731 million.
Income from continuing operations fell 14 percent from a year earlier to$359 million. However, Sprint chairman and chief executive officer William Esrey said he remains"optimistic" about the company's future growth.
"It is clear that thetelecommunications industry is undergoing a significant transformation," Esrey said.
According to Esrey, the transformation is "a shift from voice to data, from calling minutes to bits andbytes, from wireline to wireless."
The company plans to transition its revenue mix, that is now predominantly wireline voice, to the higher growth areas of data, wirelessand local broadband services, Esrey said.
The PCS mobile communications group, meanwhile, said it added almost 1.25million new subscribers during the quarter, for a 19 percent increase insubscriber growth over the 1999 fourth quarter. The company said it ended 2000 with more than 9.85 million subscribers.
Revenue at Sprint PCS rose 84 percent from a year earlier to $1.94 billion,with earnings before income taxes, depreciation and amortization of $21million, versus a loss of $501 million.
"The continued growth of Sprint PCS this year represents another chapter inan impressive business success story," said Esrey. The company, he said, is"positioned well to migrate cost-effectively to the next generation ofwireless services."
Sprint PCS's network now covers almost 80 percent of the United States. Thecompany's products and services are sold in more than 13,500 locations.
PCSis further extending its wireless reach through an agreement with AmericaOnline that brings AOL's Instant Messenger service to Sprint PCSInternet-ready phones. The phones also come with free e-mail and otherservices.