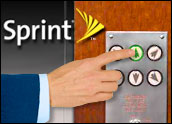 Looking to stake a claim in the emerging mobile commerce marketplace, Sprint on Thursday launched a tool for its wireless subscribers to enable them to use their handsets to buy from a host of online retailers.
Sprint said it is partnering with mShopper to become the first U.S. wireless carrier to launch a shopping portal. Customers who have monthly data plans can use their phones to access the Sprint Mobile Shopper portal, where they can shop at retailers such as eBags, Shoes.com, Bluefly and eLuxury.
With the tool, shoppers can compare products and prices. They can either buy online or use the information to compare prices before making offline purchases, said George Ranallo, director of consumer data applications at the Overland Park, Kansas-based carrier.
The carrier's high-speed data network makes the service feasible and enables users to search for products, buy directly from their phones or e-mail the results of their shopping inquiries to personal computers.
The launch represents an effort by Sprint to leverage its high-speed data network into more consumer-friendly uses and to seed the growth of mobile commerce — something already catching on overseas — in North America.
Sounds Familiar
Consumers use the portal by setting up a Mobile Shopper account, either through their phones or on the Web. Once an account is set up with a credit card number stored, users rely on a secure personal identification number (PIN) and their mobile phone number to make purchases.
Long discussed as the next logical progression beyond e-commerce, mobile commerce has nonetheless grown in fits and starts. While companies spent millions on m-commerce technology during the dot-com boom, many of those firms didn't survive the later shakeout, in part because first-generation mobile handsets weren't suitable for Web surfing and shopping and in part because of consumer reluctance over issues such as security and privacy.
"These kinds of services have been rolled out off and on during the last 10 years, all with varying degrees of success," telecom analyst Jeff Kagan told the E-Commerce Times. "It's the kind of product and service I know we're all going to be using and relying on the future. The question is: When is it going to catch on in the marketplace?"
Today's infrastructure is far more ready to handle mobile commerce than the networks of just a few years ago, with data networks able to return Web search results in a matter of seconds. "When it does start to catch on, it will grow much faster than e-commerce did," Kagan predicted.
Whether the Sprint service in particular will catch on will depend greatly on how easy it is to use, he said, and when users do get comfortable to buy online, they'll probably start with small purchases first — much in the way books and music were among the first products successfully sold over the Web.
Almost Ripe
Mobile commerce is poised to grow, but will remain something of a niche market for the near future. Mobile spending will pass the US$500 million mark in 2008 and grow to nearly $2 billion by 2010, according to Juniper Research. By comparison, e-commerce spending passed the $100 billion mark last year, according to data from comScore Networks.
Sprint is bidding to make using Mobile Shopper as easy as possible, making it available for free to users with data-enabled phones and monthly data plans. Users access the portal by typing the word "shop" into their phone's Web search box.
Sprint already ranks among the top carriers in the wireless space in terms of the amount of revenue derived from data users, with its average subscriber spending $9.75 per month on non-voice services, such as downloadable music and TV shows and GPS-enabled maps and directions.
The mobile phone is seen as a powerful weapon for commerce not only because consumers are rarely without it, but because a user's location can be used to send them targeted offers. In addition, the mobile phone is widely seen becoming a portable electronic wallet that can be used to complete point-of-sale payments, further blending the virtual and real retail worlds.
Mobile commerce only began to really appear on the radar of U.S. retailers in the past year, said Forrester Research analyst Tamara Mendelsohn.
"We don't expect retailers to see a big bang with the arrival of a new channel," Mendelsohn told the E-Commerce Times. Still, she added, "the time is finally right for retailers with a young customer base to begin experimenting with mobile shopping."