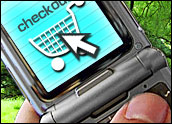 In five years, the number of mobile phone subscribers is expected to increase by more than two billion — at that point, the way people purchase goods and services could be forever changed.
For now, text-messaging, or short message service (SMS), is chiefly used for communication, but businesses hip to m-commerce are brainstorming to come up with ways to use SMS for financial transactions.Part 1 of this two-part series looks at some successes in this field. Part 2 addresses some of the ways SMS and succeeding mobile-messaging standards, such as Enhanced SMS, Premium SMS and Multimedia Messaging Service (MMS), will help drive m-commerce further, as well as some of the problems business are encountering along the way.
Mobile-Messaging and Demographics
The global population is expected to rise from about 6.55 billion to some 7 billion through 2012, and during the same time period, the world's mobile subscriber base will grow from 2.65 billion to 4.81 billion, Australia's Research & Markets forecasts.
"Mobile-messaging is an integral and vital part of the mobile industry, and contributes significantly to worldwide total mobile service revenues," the research company says in summarizing a recent report.
With an estimated 2 billion existing phones already SMS-enabled, it seems safe to assume there will be a lot more text-messaging services making their way through the ether in years to come, especially in emerging market countries.
"Asian markets, which are growing at a staggering pace, are expected to account for 50 percent of the total worldwide subscriber base by 2008. Also, the rise in mobile penetration in Latin America and Africa will contribute significantly towards the overall growth of the mobile market," states the report summary.
Facilitating M-Commerce
Text-messaging has played a central role in facilitating the growth of m-commerce. That's likely to continue as SMS and succeeding mobile-messaging standards bring fuller sets of m-commerce data sets, akin to those found on e-commerce platforms — and as they are linked with high-speed data services through technologies such as wireless application protocol (WAP).
Indicative of the times, mVisible, a Web and mobile services distributor of independent music, earlier this year decided to add a mobile billing and payment mechanism to its platform by signing a contract with mobile transaction services provider mBlox. The system allows charges for music offered through mVisible's mobile delivery service to be billed directly to carriers and appear on their consumers' phone bills.
"In the past, our billing and payment was done exclusively using online mechanisms such as PayPal and online credit card processing," Myk Willis, mVisible CTO and cofounder, told the E-Commerce Times. "The ability to sell premium content and bill directly to the consumer's phone bill has a profound impact on the reach of our products, because it frees the consumer from having to actually be sitting at a computer to purchase an item."
Developing Trends
Mobile transaction services provider mBlox sees three main trends occurring through the evolution of SMS and mobile-messaging, according to Steve Livingston, the company's chief marketing officer.
Improved means of delivering richer content — both in terms of multimedia and data services — along with supporting improved billing and payment mechanisms is one trend, Livingston told the E-Commerce Times.
The second trend is increasing consumer adoption as security concerns are addressed and new groups of mobile phone users become more comfortable using an expanding range of m-commerce offerings, as well as new delivery and billing mechanisms. About 20 percent of mobile users have tried to receive and send PSMS content, meaning 80 percent of the available mobile market is untapped, he noted.
The third trend is increasing adoption of mobile content delivery and m-commerce services by enterprises, including banks, media companies, travel and transportation, small and medium-sized businesses and others, according to Livingston.
"These companies are all beginning to integrate mobile messaging into core product offerings," he said. "SMS is an extremely powerful way for enterprises to speak to and interact with their customers. It is a new channel of two-way communications."
Mobile banking, for example, is growing popular in the United States, while mBlox already has several clients in Europe that have been offering these services for some time, Livingston explained. Some providers offer banking services for free; others charge customers fees to transfer funds or check balances via their mobile phones.
Hurdles to Clear
There are two primary problems within the universe of carrier billing. One is that there is a very high failure rate, according to Dale Gonzalez, chief technical officer of mobile marketing and content services provider Air2Web.
"Somewhere between 70 and 80 percent of attempts to put these things on consumer phone bills work. Twenty to 30 percent fail for a broad variety of reasons. That is a big problem," Gonzalez told the E-Commerce Times.
Another problem is that there is no carrier billing mechanism equivalent to a credit card in traditional commercial transactions, he continued.
"Your choice, unfortunately, is either give away the goods and then try to release the funds with the understanding that 20 to 30 percent of the time it's going to fail. Or, go get the funds and then try to deliver the goods with the understanding that sometimes — because the handset is not what you expected or the capabilities just aren't there or something breaks down on your side — you may be seizing funds and then unable to deliver goods to the consumer. So, that's a big problem — not having the two-face commit," Gonzalez elaborated.
Standardization Challenge
The biggest hurdle facing the expansion of SMS and mobile messaging for m-commerce right now is a lack of standards, Gonzalez said.
"Even though SMS is a standard, it's used in a commercial context that's not," he added. "Even for those carriers that use it to let you put items on consumer phone bills, they don't all do it the same way. It's not always the same header field — sometimes it's something about the message envelope and sometimes it's something about the way you set up the short code."
Buen Chikka
SMS has proven to be useful and popular in emerging market countries lacking significant broadband infrastructure.
Ernst & Young awarded its 2006 Information and Communications Technology Entrepreneur of the Year Award to Filipino Dennis Mendiola, the founder of Chikka.com, which developed an Internet gateway to send text messages to mobile phones. A free, downloadable instant-messaging application, it now claims 35 million registered users. Chikka Messenger "united the online world with the sea of SMS users," according to Ernst & Young.
Looking to take mobile-messaging further, Chikka is reviewing new ways of applying SMS."In the case of mobile transactions needing proximity, such as train fares, movie tickets, tollways and the like, we see the introduction of NFC (near field communication) and IR (infrared) tags as the answer. However, for remote transactions, we see SMS or Java-enabled SMS to remain the dominant standard in the years to come," Junie Agcaoili, spokesperson for the company, told the E-Commerce Times.
Agcaoili sees a hurdle in the path with regard to how other media relate to the carrier's infrastructure."Case in point is the use of WAP portals via GPRS (general packet radio service) or even EDGE (enhanced data rates for GSM evolution), where it takes more time to conclude a transaction versus SMS," he added.
Handset capabilities are another aspect of this problem. "Whereas almost all handsets can send and receive SMS, not all handsets are capable of connecting to WAP portals," he said.