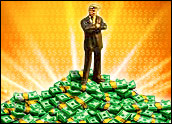 As the evolution of integrated, multimedia wired and wireless networks and services continues apace, be prepared for the rise of mobile marketing — or m-marketing — in the United States as telcos open up their platforms to third-party content providers.
In addition, a wide range of companies are developing mobile advertising, e-billing, payment and security services needed to grow m-marketing.
The initial deployment of WiMax wireless broadband networks, such as those by Verizon, should only add fuel to the fire if they prove successful.
Video on the Go
Mobile video streaming is becoming more commonplace around the world, particularly in Asia, as telcos continue to roll out 3G and 3G+ cellular networks. The implementation of integrated broadband cellular/Internet telephony services, which looms just over the horizon, should be a flash point in both m-commerce and m-marketing.
"Streaming will drive adoption of new models and more discoveries, but the cost will be an issue going forward," Tim Mitchell, vice president of marketing at IODA, the International Online Distribution Alliance, told the E-Commerce Times.
Symbian and Sling Media last October announced they will deliver "a powerful mobile TV experience" to Symbian smartphone subscribers " … that will enable users to transform their supported Symbian smartphones on S60 and UIQ into personal, on-the-go digital TVs" providing on-demand access, both companies said.
With the Sling Media application, subscribers can download broadcast TV and streaming video using standard network connections, including 3G cellular and WiFi.
As part of the deal, Sling Media will in Q4 2006 provide a Symbian version of its SlingPlayer Mobile application in select European and Asian countries. The application will be available in the U.S. shortly thereafter, according to a jointly issued press release.
What About M-Marketing?
For network providers to offer content and connectivity at a low cost, they must sell advertising. That is where m-marketing comes in. Content providers will adopt the ad-driven business model that has worked well in broadcast TV and radio markets and apply it to the mobile-media sphere.
M-commerce and m-marketing companies are looking to Asia to gauge what works where and why.
"While network speeds are still an issue of concern in the U.S., Asian countries — South Korea in particular — are moving faster along the mobile networking path. Network speeds are always an issue and Korea will be moving to a 4G technology this year," according to IODA's Mitchell.
"The U.S. is far behind Europe and Asia, and China might leap-frog them all. It's hard to say, but for large files like music and video the adoption of any technology that drives network speed and lowers cost will drive music sales. Mobile marketing is just really getting started, but the ability to target mobile searches and other practices that are now taken for granted on the Internet will be very interesting to watch," Mitchell commented.
Smartphone Evolution
The ongoing evolution and adoption of smartphones will also play a critical role in launching m-marketing campaigns and services.
"We see two trends driving smartphones onward. The first is that while smartphones have their highest penetration rates in the most saturated and developed markets, the highest future growth rates are likely to be in rapidly developing markets such as China, India and Brazil," said Symbian CEO Nigel Clifford.
"The developing world will likely account for 50 percent of smartphone sales within five years, as smartphones are a huge opportunity to fast-forward into the information era. The second is the rising youth market, a generation who [demand] the most innovative, fashionable devices and are attracted by the services they can offer."
In addition to China and India's huge market potential, "Japan is a market that we are very excited about," said Mitchell. "The Japanese mobile content market is very different than the U.S. and Europe, and the economics are much, much better.
"The carriers in Japan only take somewhere between nine to 12 percent of the gross, whereas carriers in the U.S. and Europe take upwards of 40 or 50 percent. This is obviously quite a conspicuous difference, and to make matters even better the carriers … treat their networks more like an open platform (i.e., the Internet) and less like a walled garden with very high barriers to entry," Mitchell continued. "As a result, their market is very healthy and their mobile content market is booming."
Off-Deck Content Coming Onboard
Mitchell and IODA see the off-deck market growing quickly in the U.S. and in markets around the world if mobile telcos continue to prove more amenable to a more open, symbiotic means of doing business.
The broader range of content they can offer trends nicely towards the fragmenting of mass markets into myriad niches, each with its own growth potential.
"We believe that the next big opportunity will be what is referred to as 'off-deck' and/or 'direct-to-consumer' content offerings. These are Internet sites, WAP (wireless application protocol) sites, etc., that operate through the carrier gateways and billing systems but do not live on the carriers; that is, anyone can develop and market content just like the Internet," said Mitchell.
"The U.S. and European carriers are starting to open up a bit more to this idea, and certainly independent content will be a major focus of these initiatives. This also provides a unique opportunity for IODA, as well. We can then put on our innovation hats and develop technologies on our own that can benefit our labels and allow them to take more control," he continued.
Great Expectations
"I expect that 2007 will be the year that marks a giant advancement in off-deck content. Publishers, brands, enterprises, and marketers alike have started to see critical mass in the campaigns that they have put together over the last couple of years, and are ready to take advantage of the advancements in mobile technology," Alfredo Narez, vice-president of marketing for mobile marketing and content provider Air2Go, told the E-Commerce Times.
"In addition, the growth in cross-channel marketing campaigns are making the nonpremium or off-deck mobile interaction far more valuable for the end-user," he added.
"The size of the independent-label music market is variously estimated to be 20 percent to 35 percent of the total in terms of retail sales, which implies short-term growth potential of at least 25 percent as a direct result of the emergence of off-deck companies like mVisible that can efficiently get the multitudes of niche artists onto the virtual mobile shelves," added mVisible's CTO and cofounder Myk Willis.
However, "the growth potential isn't just limited to an expansion of the market down the long tail of content," Willis continued.
Other forces that constrain the market include the following:
Handset limitations — the emergence of truly music-appropriate mobile devices is just now underway;
Uneducated, fearful consumers — some early off-deck ringtone providers were less than scrupulous with their billing practices;
Lack of technical standardization;
Legal issues — copyrights, fair use, etc.; and
Bandwidth limitations.
"You can't ignore the potential of mobile video, whether consumed as discrete downloads, or as streams," Willis said.
Forward Looking Statements
"I suspect that the ongoing development of smartphones and Internet telephony will simply open new avenues for the entire market. The smartphones give users a compelling reason for subscribers to take advantage of unlimited data plans, and the rich media (many 3G-based) give subscribers an experience that both they and the marketer will be proud of," Air2Go's Narez continued.
"We are working on a long list of new technologies, including video, MMS (Multimedia Messaging Service), enhanced MMS, on-air/participation TV technologies, etc. While the technologies are 'sexy,' we expect that SMS (Short Message Service) will still be the key component to overall mobile marketing campaigns," he added.
Also on the horizon, discovery technologies are another promising area.
"Discovery technologies are very interesting, and many carriers have implemented or are looking into discovery technologies that help users find content they like. There are a lot of ways to approach this problem, and it will be interesting to watch how they try to solve it with such small screen space," said IODA's Mitchell.