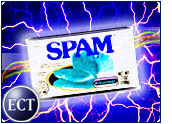 While U.S. lawmakers have failed to stop the flood of unsolicited commercial e-mail– otherwise known as spam — clogging e-mail boxes across the nation, many savvy netizens are turning to SpamCop.net, a tool that helps consumers filter out spam and report spammers to their Internet service providers (ISPs).
Julian Haight, the Seattle, Washington programmer who founded SpamCop, told the E-Commerce Times that he originally wrote the program to help himself with the arduous task of reporting to ISPs all of the spam that was filling up his inbox. Haight launched SpamCop's free reporting service in 1998 and the fee-based filtering system a year later.
John Levine, author of the guidebook "Internet for Dummies," told the E-Commerce Times that SpamCop "does as good of a job as any other program" at figuring out where spam e-mail is coming from.
Because most ISPs prohibit the sending of unsolicited commercial e-mail across their networks, the companies and individuals who send spam usually use bogus return e-mail addresses.
Even so, hidden in the header of each e-mail is a detailed map showing every server that the e-mail passed through on its journey, including the originating address.
It is that hidden trail that SpamCop uses to clamp down on spammers.
Nitty Gritty
To use SpamCop, an e-mail recipient must first display the entire header of the e-mail. For most e-mail servers, including Hotmail and Yahoo!, this is simply a matter of changing the preferences to display all of the header information.
Once the header information is displayed, users cut and paste the entire e-mail into SpamCop's reporting system. SpamCop then analyzes the e-mail and sends out a report analyzing the spam's trail, revealing from what ISP the e-mail originated.
Clicking on the "Send Spam Reports Now" button sends e-mails to the appropriate ISPs, notifying them that their servers may have been used to send spam. It is then the job of the ISPs to follow up on the complaint and take appropriate action, if any.
Return to Sender
In addition to reporting possible spam e-mails to the appropriate ISPs, SpamCop also adds the alleged offenders to its spam database. That database contains the originating address for all spam filtered through SpamCop during the previous two weeks.
Subscribers to SpamCop's filtering service pay 50 cents for each megabyte of mail processed. E-mail that is from an approved user,or from an ISP that has not been reported as a source of spam recently, is automatically forwarded by the system to the subscriber.
E-mails from recently reported ISPs, however, are challenged by the filter, and the sender of the e-mail will receive a return e-mail from SpamCop notifying the sender that the e-mail was blocked. The return e-mail also asks the sender to verify the e-mail's authenticity.
Once an e-mail is verified by the sender, the sender will be automatically added to the recipient's approved list.
Address Unknown
Although the SpamCop filtering system is fairly simple, the system works, according to Haight, because most spammers use bogus e-mail addresses and never receive the return e-mail from SpamCop requesting confirmation.
On the off-chance that a piece of spam does make it through SpamCop's filtering system, users have the option of automatically reporting it as spam to the appropriate ISPs.
Government Inaction
Most people agree that spam is an overwhelming problem. However, the spam laws on the books in various U.S. states are "pretty ineffective," John Mozena, co-founder and vice president of the Coalition Against Unsolicited Commercial E-Mail (CAUCE), told the E-Commerce Times.
Recent action by the highest court in Washington state, ruling that a state law prohibiting certain types of spam is consititutional, provided one glimmer of hope that legal relief from spam might be coming.
It's Not All Spam
However, as both Haight and Levine point out, not every piece of unsolicited commercial e-mail is spam. Some unsolicited e-mails, such as automatic feedback from ISPs notifying a sender that their e-mail could not be sent, are actually legitimate.
Haight said that anyone using SpamCop to report e-mail that is not spam, including so-called "bounce reports" from ISPs and e-mail newsletters that they actually signed up to receive, is banned from using SpamCop.
Spammer Threats
SpamCop's 40,000 subscribers adore the service, according to Haight, but spammers are not so thrilled. Haight said that spammers call or contact him nearly every day with threats of anything from litigation to death.
Haight said he does not take the spammers' warnings seriously because he has not heard any "credible" threat. The worst he has received are certified letters full of misspellings, sent on the letterhead of unknown companies.
However, Haight said that he would take notice if "anyone was willing to stand out in the light of day and say 'I'm taking you to court.'"