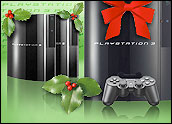 With sales of Sony's struggling PlayStation 3 (PS3) video game console picking up in Europe, Japan and the United States, the company's CEO, Howard Stringer, revealed details of its plans going forward for the console at a press conference Tuesday held in Tokyo.
The PlayStation 3 outsold Nintendo's Wii in Japan for the first time during the first week of November, following the introduction of price cuts and new models, according to Enterbrain, a Tokyo-based research firm. Sony sold 183,217 PS3 consoles, while Nintendo rang up sales of 159,193.
Black Friday Boost
Sony's good news continued through the remainder of November. Stringer reportedly noted sales have been good, with consumers snapping up some 200,000 PS3s in Europe each week and between 40,000 and 50,000 in Japan. In the U.S., Sony has sold more than 200,000 consoles since Thanksgiving.
The PS3 could go even higher by the end of December, coming close to 1 million units sold, according to Michael Pachter, a Wedbush Morgan analyst.
"The 200,000 number is Europe [and] sounds right to me, and probably about the same for the U.S," he told the E-Commerce Times. "My preview yesterday said 800,000 [consoles sold] in the U.S. in December."
However, the good times may be short-lived for Sony, said Rob Enderle, principal analyst at the Enderle Group, and will not be enough to make the PS3 platform competitive with the Wii or Microsoft's Xbox 360.
"Much of this was the elimination of old inventory at discounted prices. Once this inventory is gone, there is little to drive continued sales at this level. One thing working for them is the shortage of the Wii. [That] is driving some folks to the PS3 and helping their sales rate," he told the E-Commerce Times.
"Problem is, it's still the Wii folks want. They are simply settling for the PS3, and for the onetime market leader, that sure isn't good," Enderle continued.
PS3 Front and Center
The company will begin by taking on two industry heavyweights in 2008 — Microsoft's Xbox Live and Apple's iTunes Store. Stringer reportedly plans to expand Sony's PlayStation Network (PSN) beyond gaming to include movie and music downloads.
While Stringer acknowledged that opening up its PSN next year will put Sony in a highly competitive mix with the two digital download retailers, he also said the expansion would include content not only from Sony's movie studio, but also from other content owners in the movie and music business, according to reports.
Downloads will likely be available directly to the PS3 initially. That is where the second component of Stringer's plan will kick in. Sony also intends to link the PS3 with its PlayStation Portable (PSP) console online and eventually extend the hook-up to other devices, such as Sony Ericsson mobile phones.
Eye Off the Ball
Rather than a positive move, Sony's plans for the PSN and interconnected devices will not solve the company's very basic PS3 problem, Enderle said.
"Sony appears to be doing everything they can to avoid the real problem with their product. It is too expensive and it lacks the 'off the couch' experience that the Wii used to expand the market. Given that playing common games across the PSP and PS3, near term, won't be that interesting and anything other than games hasn't been very popular on these things yet, this would seem to make as much sense as working on making new drapes on the Titanic after it hit the iceberg."
As Sony creates its PlayStation Network, the company needs to ensure that it gives consumers a compelling reason to connect, Enderle noted.
"They probably should have done a better job of connecting to their Vaio PC first. But they need to showcase a compelling reason why these devices need to be connected. While connecting to back-end services is the future — and for movie downloads will likely make the Blu-ray feature obsolete over time — it still isn't clear what would make connecting the PSP and PS3 together [a desired activity]," he explained.
Enderle is equally pessimistic about Sony's chances of building up the PSN's available offerings to include movies, videos and music to attract users. Nor does he think that Sony will be able to make up any ground lost to Microsoft's Xbox Live.
"If it was anyone but Sony, the answer would be different, but Sony isn't good with working with others, and that is a huge problem with this effort," he pointed out.
In the end, Sony's plans could have the potential to undermine its goal of building up its PS3-related offerings to attract users and sell more consoles because it means the company will have to split its focus, he said.
"It takes their eye off making the PS3 competitive with the Wii," Enderle concluded. "Currently it isn't, and that should be their highest priority. They carry too much cost and lack game content that addresses the Wii opportunity right now, and fixing that should be the No. 1 priority."