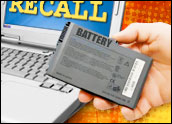 Hoping to start the long process of moving past the massive recall of notebookcomputer batteries,Sony on Monday apologized for the uproar it caused but said it had no plans to exit the PC battery business.
To date, some 9.6 million batteries have been recalled around the world, the bulk of them forDell andApple laptops. Sony has been forced to spend tens of millions of dollars on recall programs for more than a half dozen PC makers in all.
Not Giving Up
On Monday, Sony Executive Deputy President Yutaka Nakagawa told a news conference that Sony remains committed to producing the batteries. Currently, it ranks as the second-largest maker of batteries behind Sanyo.
"The battery operation is a very important business for us," he said. "We have no intention of quitting it or scaling it down."
For the first time, Sony also issued a direct apology for the recalls. "I would like to take this opportunity to apologize for causing worries over safety of lithium-ion batteries," Nakagawa said.
It may be some time before the full extent of the damage caused by the recall is known. However, it is noteworthy that Hewlett-Packard overtook Dell to claim the top PC-seller spot during the third quarter. HP has been one of the few major PC makers to entirely avoid being drawn into the recall.
Lowering the Bar
Last week, Sony revised its financial projections, reducing its profit outlook by a full 62 percent and saying it had set aside US$429 million in cash to fund the recalls. In addition to its battery woes, Sony is dealing with lost opportunities in its gaming line due to price cuts on the PlayStation 3.
Sony does expect some erosion of its battery business, saying that it cannot supply enough to replace all of the recalled batteries, as well as keep PC makers stocked with new ones, during the busy fourth quarter.
Nakagawa said there is a "good chance" some PC customers have already begun to source batteries from other companies. In some cases, the company was working with customers to help them find battery makers who can produce compatible components, he added.
Sony was forced to recall another 250,000 batteries for its own Vaio notebook computers worldwide. The company previously had limited the recall of its own notebook batteries to Japan and China.
Slow Uptake
Also, Sony has offered some of the most detailed explanations to date for what happened to cause the batteries to be susceptible to overheating and, in rare cases, catching fire. Nickel particles found their way into the batteries when a groove was made to load the battery into the case, the company explained, and when the electrolyte substance that gives the battery its power was poured into the cell.
Meanwhile, PC makers are reporting slow returns, especially among consumers, who are traditionally unresponsive to recalls. The fact that relatively few batteries are being sent in for replacement may help buffer Sony from the full financial impact of the problems, said Endpoint Technology analyst Roger Kay.
"In the end, not all of the batteries will be returned, so Sony is building in a cushion for itself there," Kay explained. Still, he expects some long-term erosion of the company's battery business. "The company has work to do to win back customer confidence, and that will take some time to do."
Some PC makers have said they may consider seeking additional compensation from Sony, such as for lost sales or damage to their reputations, though no formal action has been taken as yet.