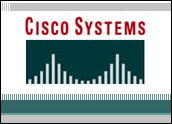 Internet and network gear maker Cisco Systems posted second quarter results that were in line with expectations, but stayed true to recent form among fellow technology firms by disappointing analysts and investors with its outlook.
The current business climate is "challenging" in both the U.S. and Europe, said Cisco CEO John Chambers. Any downturn will be short-lived, he added, noting that Cisco will transition through it well, as it has past recessionary periods.
"I am personally very optimistic that this market transition will offer opportunities for us and it will be relatively short-term in its implications," he said. The company was surprised by how rapidly conditions deteriorated during January, when it posted a rare miss of internal sales targets, Chambers noted.
Dealing With Slow Times
By carefully examining its strategy, Cisco gained market share and boosted profitability during slow times such as 1997, 2001 and 2003, Chambers added. "As a result we were better positioned coming out of the transition versus our peers. In terms of the current economic transition that may be going on, we believe that our strategy and the critical role the network plays in enabling all forms of communication in IT is right on target."
Cisco forecast third-quarter sales of approximately US$9.75 billion, substantially below the $10.2 billion that analysts had been calling for on average. The forecast still calls for growth of 10 percent, Chambers noted, and said Cisco still believes it will meet its long-term growth of 12 to 17 percent revenue growth per year.
Cisco shares were down as much as 7 percent in early trading Thursday. By midday, they had recovered some of their losses and were trading down 2.7 percent to $22.48.
Meeting Targets
For its second quarter, Cisco managed to meet most Wall Street analyst expectations, with sales of $9.8 billion, up 16.5 percent from the year before. Net income was $2.1 billion, or 33 cents per share, a 6 percent increase over the same quarter last year.
Cisco's sales to emerging countries remained red-hot, climbing 53 percent to $1.2 billion. European sales were up 8 percent and sales in the Asia-Pacific region climbed 19 percent.
Chambers has spent billions to reshape Cisco and position it to take advantage of what he calls "the second phase of Internet development," one driven by Web 2.0 technologies and Internet video. Cisco's purchase of set-top box maker Scientific-Atlanta was meant to ensure it had a role in the evolution of the video-on-demand market.
"In the last several quarters, we believe we have achieved a clear number-one position from both a thought leadership and equally important implementation and we intend to expand upon this position of leadership," Chambers said.
Cisco is well-positioned to capitalize on trends in the Internet space as well as in corporate networks, where video conferencing over the Web is gaining acceptance, Gartner analyst John Pescatore told the E-Commerce Times.
"Those trends aren't going away," he said. While some slowdown of IT and telecommunications spending may be in the cards during upcoming quarters, Cisco's diversity and its reputation as a network gear maker should enable it to withstand downturns. "They have shown that they are serious about building in security and adding capabilities that enterprises want."
Reading the Leaves
Cisco executives repeatedly said they were taking a cautious approach in their outlook because of some recent delays in orders in both the U.S. and Europe. Cisco has invested heavily to position itself for growth in emerging markets. Last month, Cisco said it would spend more than $1 billion to beef up operations in the United Arab Emirates, part of a larger plan to position itself for coming growth in markets such as the Middle East and Africa.
"Growth outside the U.S. remains strong and global balance may enable Cisco to better weather the current tech spending uncertainty," RBC Research Analyst Mark Sue wrote in a research note.
Cisco's earnings report mirrors that of other closely watched tech firms, many of whom reported decent historic performance but softened their outlooks, raising concerns that the U.S. economy was rapidly moving into recession.
The question now may be not whether spending on technology, especially by businesses, will slow, but for how long.
A Well-Positioned Firm
Things may be poised to pick up by the second half of the year, Forrester Research Analyst Andrew Bartels told the E-Commerce Times.
"Things were soft in the early part of 2007 but the year turned out to be pretty decent overall," Bartels said. IT expenditures will grow 5 percent during 2008, Forrester predicts, lowering a forecast made last fall that called for 8 percent growth.
Companies like Cisco that are diversified and are gaining market share are naturally well-positioned to withstand any slowdown. Still, some enterprises may expect more favorable pricing or other incentives to stick with planned purchases in the face of a weaker economy. "Vendors could face pressure to cut prices, which will impact sales further," Bartels added.