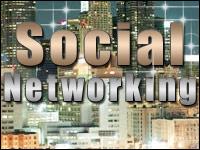 Jive Software on Monday launched tools designed to bring social networking capabilities further into the enterprise, along with strategic partnerships with both Google and Twitter.
Jive What Matters is a tool that aggregates relevant information from social business applications, existing enterprise tools and the external social Web into a single page designed to enable faster action by decision makers.
Jive Apps Market, on the other hand, will function as a gallery of tailored applications built by cloud application providers, third-party developers and system integrators. Toward that end, a developer community will be launched this fall with full API documentation.
Both tools represent strategic expansions to Jive's Social Business Software platform.
'Everything That Matters'
Through its new strategic partnerships, meanwhile, Jive is now available in the Google Apps Marketplace. It has also licensed the Twitter Firehose, providing instant access to 65 million tweets each day.
"Social businesses can't afford to have spotty access to conversations that happen on the social Web, or they risk brand interruption," said Ari Newman, senior director of product management for Jive. "With this partnership, we're providing our customers constant, full-picture access to everything that matters on Twitter for faster decision making."
Jive What Matters is powered by Jive Chatter Filter and Jive Genius. Jive Chatter Filter delivers a pure stream of relevant information, giving users a personalized view of the information they want and the actions they need to take by cutting through the noise of extraneous data. Jive Genius, on the other hand, proactively recommends useful content based on learned preferences and behaviors of each Jive user.
Letting 'the Cream Rise'
Jive's tools and Salesforce.com's Chatter "are trying to do related but somewhat different things," York Baur, chief marketing officer with the TAS Group, told the E-Commerce Times.
TAS just released Dealmaker Pulse, which can be integrated with Chatter.
"What Salesforce is trying to do is encourage conversation among salespeople, whereas what Jive is trying to do is broader," Baur explained. Specifically, Jive aims "to allow any employee to get filtered information — to let the cream rise out of all this vast amount of communication that takes place."
Salesforce.com is also skewed toward small to mid-sized companies, whereas Jive is oriented to larger ones, Baur noted.
'Worth Investing In'
"I like that Jive, Google and Twitter have finally come out and openly admitted that social networking tools are not just for socializing, but are exceptionally valuable for business if used correctly," Lon Safko, social media entrepreneur/consultant and coauthor of The Social Media Bible, told the E-Commerce Times. "We've all known it since the the beginning, but it's good to see them embrace it openly."
Aggregation is the next logical step, Safko added.
"We've seen it throughout the entire history of the computer industry. First, there were external hard drives, CD players, DVD burners, and WiFi; now it's all built in," he explained. "Then we saw Twitter, Facebook comments, blogs, and their comments all in separate places; now they are simply aggregated."
The trick, he noted, "is to see who brings the most robust tools to the table in the most intuitive interface at the most cost-effective price point.
"I can personally attest to the need and market size," Safko concluded. "Any market that is growing in excess of 25 percent per year and could hit US$5 billion over the next three years is worth investing in."
'The Best Junk-Mail Targeting Cloud Ever Known'
Meanwhile, "the mode of connecting to existing social networks and Web sites is really taking over in this space," Michael Cote, an analyst with RedMonk, told the E-Commerce Times.
The "saturation of consumers and customers in sites like Twitter, Facebook and other places," is one factor propelling that trend, Cote noted. "These are people who are spending money with companies that are the potential customers for Jive, Salesforce and other offerings."
In addition, "all of the demographic data — location, background, affinities — photos, and relationship tagging is creating the best junk-mail targeting cloud ever known, and companies want to mine the crap out of that data to sell more to their customers," he pointed out.
Finally, "the widespread use of open APIs and data standards — de facto and otherwise — are enabling technology companies to wire together their software with these online sites, making it technologically and economically feasible for folks like Jive to suck in all that social data," Cote added.
'A Gold Mine'
"The main point is that many companies are realizing that the self-service demography and categorization that people are doing in social networking sites is a gold mine for doing excellent junk mail: selling more stuff to customers, keeping existing customers happy,getting new customers and gathering the intelligence needed to keep doing all of those," Cote explained.
"The fantastic — or depressing, if you're from the 'throw a brick through the McDonald's window,' No Logo crew –part is that your customers do the most expensive and difficult part for you," he pointed out. "They self-segment and declare their interests, down to the person, all for free."