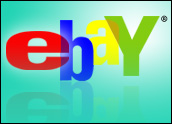 A massive write-down in the value of its Skype Internet calling subsidiary sent eBay to its first quarterly loss in its nearly decade-long history as a public company, but the auction giant otherwise managed to beat expectations and boosted its outlook.
eBay had warned it would take the hit on its Skype investment previously, and on Wednesday formally took a US$1.39 billion write-down that helped push its overall results for the third quarter to a loss of $936 million.
With the Skype write-down — meant to reflect the current value of the unit compared with the $2.6 billion purchase price — and other one-time charges stripped out, eBay would have posted a 58 percent jump in profit to 41 cents per share. Revenue for the quarter was $1.89 billion, a 30 percent increase.
For the seasonally strong fourth quarter, eBay forecast revenue of $2.1 billion to $2.15 billion — also ahead of analyst forecasts.
Relative weakness in some parts of eBay's core marketplace and plans to invest heavily in beefing up the buying and selling experience seemed to weigh on investors. eBay shares, which rose to an 18-month high of more than $40 ahead of the earnings release, were down nearly 7 percent in morning trading Thursday to $37.86.
Help From a Pal
CEO Meg Whitman called the quarter "a strong one," with eBay's PayPal payment service and other business units, including recent acquisition StubHub, performing better than the company expected.
With the key holiday season set to kick off in a matter of weeks, Whitman said, "We feel good about our strategy headed into the fourth quarter."
eBay's core auction users actually posted fewer items for sale during the quarter than in the year ago period, with listings falling 5 percent to 556 million. However, the total value of those listings went up to $14.4 billion, a 14 percent increase.
eBay had raised auction listing fees over the past year, but Whitman said that some fees would be cut by as much as a third as a way of boosting listing volumes, which in turn will help attract a greater number of buyers to the site.
The fee cuts will be temporary but could be made permanent if they prove successful at driving more listings, said Chief Financial Officer Bob Swan.
A Strong Division
The PayPal division was particularly strong, with a revenue growth rate of 35 percent to $470 million — the unit's best quarter ever. PayPal was used to handle $12.2 billion in payments, eBay said, and international growth was particularly strong. "PayPal continues to deliver incredibly well across the world," Whitman noted. "We couldn't be more pleased by the trajectory of this business."
The strength may suggest PayPal has not been significantly weakened by the launch of Google Checkout, which went live about a year ago in some markets. The fact that it outgrew auctions listings also suggests greater traction as an alternative form of payment with other merchants as well.
In addition to cutting fees, Whitman said eBay would "continue to invest in significant enhancements to the buyer experience" on the site, with better support and a new pricing strategies.
Big Plans
Long-term, eBay is banking on the social and community part of its buyer and seller network to help set it apart from other e-commerce competitors, Sterling Market Intelligence Principal Analyst Greg Sterling told the E-Commerce Times.
"Those innovations are going to take time to find their traction," Sterling commented, noting that Skype is part of that equation and that eBay has invested in social networking with its eBay Neighborhoods initiative. "For a long time, eBay drove its own traffic because it was unique, but now it's recognizing it needs to reinvigorate that core business if it hopes to keep growing it going forward."
Even Skype is a bright spot for eBay, just not to the degree eBay thought when it bought the P2P (peer-to-peer) calling firm, JupiterResearch analyst Ian Fogg told the E-Commerce Times.
"Skype is making money," Fogg said. Revenue from Skype doubled to $98 million while the number of registered users rose 81 percent to 246 million worldwide users. "Just not as much as eBay anticipated."
That fact may be lost amid the massive write-down and the upheaval in the VoIP (Voice over Internet Protocol) marketplace, Fogg added, but may help demonstrate that Web calling services are more viable than widely believed.