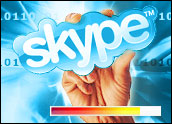 As of Friday, Skype, the popular video and voice service, is a division of Microsoft. The US$8.5 billion acquisition was announced in May, and the U.S. Justice Department quickly cleared the sale. Antitrust regulators in the European Union signed off earlier this month, although Microsoft acknowledged the acquisition is still under review in a few unnamed countries.
Skype CEO Tony Bates will remain at the helm as president of the Skype division reporting to Microsoft CEO Steve Ballmer. The division will continue to offer Skype's current products.
In the long run, Skype will likely be integrated across a range of Microsoft applications. Skype boasts 65 million daily users, with particular strength in Europe.
Skype was founded in 2003 and acquired by eBay in 2005. eBay sold the majority of its Skype holdings to an investment group led by Silver Lake in 2009.
Microsoft did not respond to the E-Commerce Times' request for comments by press time.
Bye, Bye Desktop – Hello Voice
The purchase of Skype could tilt Microsoft further toward cloud and speech-based technology, dragging communications farther away from the keyboard.
"Microsoft's acquisition of Skype heralds a shift in the IT ecosystem away from a desktop interface, using mice, keyboards and displays, to a mobile one focused on speech and personal context, using microphones, accelerometers and location sensors," Carl Howe, director of anywhere consumer research at the Yankee Group, told the E-Commerce Times.
While Skype is used primarily for person-to-person communication, Microsoft is likely to bring the computer into the conversation.
"Skype makes person-to-person speech a part of traditional Microsoft offerings. It's a small step from there to incorporating person-to-computer speech like Apple is offering with its Siri interface for the iPhone," said Howe.
MS Cloud Play
Skype could be the tool that helps Microsoft move to a more cloud-based communications technology. Skype may be robust enough, and entrenched enough, to become a central part of Microsoft communications.
"When Microsoft moved into VoIP and Unified Communications (UC), they were banking on the fact that the decision-making for UC would move from the network to the desktop manager," Zeus Kerravala, principal analyst with ZK Research, told the E-Commerce Times. "I don't think that's happened yet. However, I do think we'll see UC and voice shift to the cloud over time."
Other corporate applications have already moved to the cloud, and it's only a matter of time before UC does as well, Kerravala predicted.
"Prior to Skype, Microsoft didn't really have a cloud play, and now they have arguably the best cloud-based voice service out there," he said. "For Skype, this gives them a huge distribution channel and a set of developers to tap into. Microsoft gets a robust, feature-rich cloud platform. It should be a win-win."
Could Be Good, Could Be Bad
On the other hand, Microsoft may not be the best parent of Skype. Not every acquisition improves the product or even sustains its existing quality.
"This is a great opportunity for Microsoft, or any high-tech powerhouse, to screw up another perfectly good company," Jim McGregor, chief technology strategist at In-Stat, told the E-Commerce Times.
"All too often we see innovative companies lose focus and personnel after an acquisition," he continued. "Let's hope this does not happen to Skype.Much of the outcome will depend on how Microsoft plans to utilize their investment in Skype.If they try to make more money from it by adding charges, they will face stiff competition from a variety of other competitors."
Since Skype is very strong in Europe, the deal could give Microsoft a deeper reach there, suggested McGregor.
"This could be a good or a bad thing," he said. "The European Union government bodies are not particularly fond of some of the leading U.S. high-tech companies."
While it would seem logical that Microsoft would integrate Skype into existing MS products, the process may not go smoothly.
"We still don't know what this will mean to Microsoft products," said McGregor. "Microsoft is such a large company. It is difficult to imagine Skype as an integral part when so many of the existing groups at Microsoft appear to be out of sync."