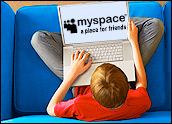 In the evolution of social networking, the purchase of MySpace.com by Rupert Murdoch's News Corp. in the summer of 2005 is considered a key turning point.
"Murdoch made a huge bet on MySpace and it's been headline-worthy ever since," Chuck Richard, vice president and lead analyst with interactive marketing strategy firm Outsell, told the E-Commerce Times. "Where before it was a trade or industry conversation, that move put it right in the public spotlight."
Money Maker
Today, the public discussion of social networking often focuses on potential downsides such as the willingness of teens to put private information in a public forum. For Web companies, social networking poses another riddle: How to make one of the fastest-growing niches of the Web — one that has attracted Google, Microsoft and other heavy hitters in recent months — consistently profitable.
There's little question that advertisers are eager to capture the young audience and the potential for viral marketing that social networking and related content — blogs, podcasts, etc. — represent. Still, the question of where and how to use those social networking marketing dollars is not always an easy one to answer, given how rapidly things change.
The current rush to market through blogs and other forms of social networking is reminiscent of the earlier rush to capitalize on search marketing opportunities, said Richard.
"Right now we're much more in the growth stage," Richard said. "Publishers, search engine providers, aggregators — it's almost unanimous that there are internal discussions about how to enter into and take advantage of social networking. They want to be part of the mix, part of the conversation."
Knowing what that conversation will be or even where it will take place isn't as simple as recording Web traffic, however. In fact, today's hot site could be old news by tomorrow.
"We're fickle," Richard said, adding that when he recently asked his teenage son about MySpace.com, he was told that particular network was old news, that FaceBook was the place cool kids now went to network. "If you are trying to stay aligned with these folks, you have to be alert to the fickle nature of fashions and fads. You've got to be nimble."
Get In While It's Hot
There is little debate about how hot the social networking scene is or how eager advertisers are to get their messages in front of the young, wired demographic that favors the sites.
Recent data from Nielsen//NetRatings showed traffic to social networking sites is up 47 percent over last year, with nearly half of all Web users — or about 69 million people — now visiting at least one such site.
Jon Gibs, Nielsen//NetRatings' senior director of media, said such sites are to the Internet what reality television is to TV networks.
"The content is relatively inexpensive for publishers to produce, and social networking is not a fad that will disappear. If anything, it will become more ingrained in mainstream sites, just as reality TV programming has become ubiquitous in network programming," he said.
Another strong attraction to social networking for advertisers is the loyalty users show toward their favorite sites, with visitors driven to return often by ever-changing content and membership. That, however, may change over time. "This is a fickle youth audience, and the masses that have rushed to these sites could turn their attention elsewhere. The question that remains is, 'How strong are the social networks that consumers are building on these sites?'"
Splintered Social Scenes
Outsell's Richard said for publishers and content owners, grabbing a piece of the social networking buzz won't be easy. Users can sense overblown marketing and won't be drawn to sites by such efforts.
Still, the amount of money poised to be pumped into the niche is set to grow rapidly. Though it will make up only 1.8 percent of total online marketing spending this year, marketing through blogs will grow 43 percent this year, Outsell predicts, double the growth rate predicted for search spending.
Because of the near-impossibility of creating sites that users will flock to, Richard sees a situation where publishers don't necessarily own their own social networking sites but instead share traffic and advertising revenue with others that manage to grow them organically.
Many of those sites will likely be niche networking sites and there are scores cropping up online, from sites created along specific interests — connecting those interested in cars, gardening or other hobbies, for instance — or backgrounds, with many colleges and universities eager to use social networking to beef up their alumni networks.
Some of those niche sites have an added advantage in the quest for revenue and profits — the connections they promise to make for people are unique enough that users are sometimes willing to pay to access them.
Pay to Play
Some social networking sites are seeking to derive revenue directly from their members by charging for premium access. Classmates.com, for instance, offers tiered membership levels with more information about past acquaintances available for those who pay a monthly fee.
MySpace.com pages are "drowning in advertising," a sign that advertisers are eager to capture the young audience there, with music labels and movie studios among those eager to embrace the site Dave Taylor, CEO of Intuitive Systems, told the E-Commerce Times.
Taylor said the social networking rush is back to the future for the Web. "It's really back to the late '90s, the 'value of eyeballs,' but for MySpace, etc., it works," he said.
Meanwhile, new technologies promise even more targeted advertising, with not just demographics but geography playing a role in who sees what marketing messages.
Proximity-based ads have the potential to be even more valuable, Jambo Networks co-founder Charles Ribaudo told the E-Commerce Times. Jambo offers location-based solutions to other networking sites.
"Facebook users that are in Starbucks could receive a customized offer for a new Starbucks CD or latte," he said. "We could also send an SMS or e-mail to notify their members about others in proximity or about missed connections. That match could be sponsored by Starbucks — perhaps as an incentive for members to return there to meet up."