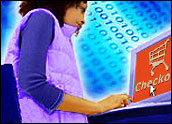 Though it may seem at times as if the U.S. market is dominated by foreign-made goods, longtime importer Albert Wu believes even more goods could be making their way to consumers.
Wu and the others behind Internet startup Silkfair.com have long been involved in the importing business, bringing specialty items from markets such as China into the United States, a market that many smaller merchants find difficult to crack.
"We started realizing a lot of different products don't make it into the market because of the difficulty of trying to break into market channels," Wu told the E-Commerce Times. Even though the Internet lowers some barriers, the logistics of setting up a site and back-end services such as payment processing are still enough to keep some would-be merchants out of the market, he added.
"Often the only choices they've really got are to invest a ton of money into marketing and sales in order to try to crack the market channels or resort to eBay or another third-party site that may not be a really good representation of their company or a way for their brand to stand out," said Wu.
Silkfair tries to fill that need by offering a setup process that requires no technical knowledge. Users get a storefront with a unique URL (uniform resource locator), a blog and an interactive forum. There is no charge to set up a store or list products. Silkfair takes a 3 percent commission on final sales and also charges for video ads based on the bandwidth used.
One Screen at a Time
Silkfair was in development for more than two years. Much of that time was spent perfecting and simplifying the checkout process. The result is a process that moves users quickly through the purchasing protocol on a single page. The entire platform is based largely on Ajax programming tools for smooth operation even though multiple Web services may be working at once.
Purchases from multiple vendors on Silkfair can be aggregated into a single shopping cart, and Google Checkout and PayPal are among the payment options.
"We spent a lot of time getting the checkout process to where it would not lead to abandoned shopping carts and missed opportunities," said Wu.
Another feature of Silkfair is the use of video for grassroots-level commercial highlighting products or shops. Sellers pay based on the amount of bandwidth the viewers of their commercials demand and retain control over how high their budget goes each month — with the ads being locked once they reach that limit.
The site borrows from tried-and-true sites such as eBay, offering a rating system and trying to encourage a sense of community through the use of forums and customer reviews.
Strength in Numbers
Critical mass is important for a site such as Silkfair, said Forrester Research analyst Sucharita Mulpuru, with enough sellers needed to draw buyers in and with sellers reaching a large enough audience to make it worth their while to do even limited work to maintain their stores.
"eBay's users have long searched for a viable alternative, especially at times of change, such as fee hikes," Mulpuru told the E-Commerce Times. "Often, they find there are few places that can offer the same services and the same audience reach."
Wu readily admits that there is strength in numbers and says Silkfair — which competes with a host of new low-cost merchant platforms and standalone Web site offerings as well as eBay — is building tools to bring like-minded buyers and sellers together.
By bundling together similar stores — and their related blogs and community features — Silkfair will be able to help get them noticed across the Web, boosting the likelihood of their being found through searches, for instance.
Silkfair also intends to add to its platform — which came out of stealth mode this spring and has been adding users at a rate of 20 percent per week — by offering more customizable sites and themed sites that enable similar merchants to cluster together.
"[We] want to make it an easy-to-run operation," Wu commented. "As a seller, you should be out there building up business, not maintaining your site all the time."