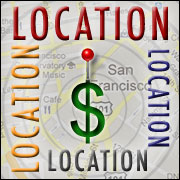 There's no better time to get an offer than a few steps into a store — or so believesSensewhere, a company focused on hyperlocal interactions with consumers. It just released Adwhere, a location-based mobile application that can position consumers who are indoors and otherwise out of reach of GPS.
"Sensewhere uses a hybrid positioning technology that intelligently integrates GPS with wireless and electromagnetic signal based positioning, such as WiFi, Bluetooth, etc. The technology intelligently switches among these, as well as building a real-time wireless positioning database," Sensewhere CEO Rob Palfreyman told the E-Commerce Times.
Mapping and Targeting
Indoor mapping is one piece of Sensewhere's offering. Adwhere takes things a step further by tying in social networking activity to determine intent to buy, and then sending highly targeted offers to consumers.
The link between social networking sites and location comes into play when a consumer clicks the Like button on a product, or posts an intention to buy a particular product. When coming into proximity of that brand's store, or a store where that brand or product is available, the consumer will get an offer on the phone.
"Adwhere has data mining capability that allows it to tie in historical information such as specific posts regarding Likes and purchases that are geo-tagged using Sensewhere's fine-grained positioning technology, to deliver specific adverts to the user," said Palfreyman.
Getting the equation right will be crucial for a company such as Sensewhere.
"How successful will these tools be, given the potential for fatigue on users?" asked Chris Silva, mobile analyst at Altimeter Group. "It has the potential to generate too much traffic."
Many consumers are already accustomed to a steady stream of brand messaging.
"Heavy users of social are almost always having some sort of social interaction with retailers," Silva added.
The offering combines two emerging technology components: indoor mapping and targeting consumers at a precise location. Sensewhere is not unique in tackling indoor positioning — Google and Microsoft's Bing, as well as Meridian, Point Inside, Aisle411 and a few other startups are doing similar work.
"They are all trying to do the same thing, which is lead you from point A to point B in a shopping mall, airport, hospital or museum," Greg Sterling, founder of Sterling Market Intelligence, told the E-Commerce Times.
API for Developers
Though its main office is in Edinburgh, Sensewhere has a Mountain View, Calif., office to tap into Silicon Valley. To date, Sensewhere has developed apps including Friendswhere, Snapp!, Snapp!ed and Geowhere. All apps are location-aware; for example, Snapp!ed is a free social map of Edinburgh and the university campus.
For its just-launched Adwhere, Sensewhere is still in the process of signing new clients and said it was too early to name any specific brands. The company is talking to ad agencies, content providers, mobile network operators, retailers and malls, as well as enterprises.
The product offers business analytics, indoor positioning technology, custom indoor maps, an ad delivery mechanism for third-party applications, an easy integration for ad agency advertising databases, and an ad delivery engine.
An API allows enterprise developers to create apps. A mall might create an app that would provide a map, store directory, and turn-by-turn directions if a consumer should get lost in the food court, for example. That same app could display on the map multiple offers from various retailers in the mall, so a consumer could take advantage of several deals in one shopping trip.
"The technology layer is solvable, if not solved, by these companies," said Sterling. "They have figured out how to deliver turn-by-turn indoor directions. Now it's really about consumer adoption and the business model — how they are going to make money and reach consumers."