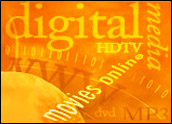 The U.S. Senate voted late Monday to institute a four-month delay in the nation's switch from analog to all-digital television signals in a move meant to give millions of Americans more time to prepare for the transition.
Television broadcasters are scheduled to go all-digital on Feb. 17, in effect tuning out anyone who has an analog television set. Consumers with analog sets will need to obtain a digital converter box in order to get a signal, or switch to cable or satellite service. Those who already have televisions with digital tuners, or who have cable or satellite service, won't be affected by the end of analog signal broadcasts.
There are an estimated 6.5 million American homes that are not ready for the transition — the main reason President Barack Obama gave for moving quickly after he took office to put off the transition.
However, cable companies and broadcasters have already spent millions preparing consumers for the transition and will surely incur additional costs if the Feb. 17 deadline is extended another four months.
In addition, the wireless telecommunications industry and the public-safety sector are waiting for the analog spectrum that will be vacated by television broadcasters to become available.
The House of Representatives has not yet voted on the Senate bill.
Political Forces at Work
"I think what really drove this was the change in [presidential] administrations," said Scott Cleland, a telecom analyst at the Precursor Group. "The new administration faces the biggest and most urgent to-do list in memory. The judgment was, if it can be postponed and not cause a major problem, it's important to do so."
One of the main problems facing the transition is that there aren't enough US$40 coupons available to make digital converter boxes more affordable, Cleland told the E-Commerce Times.
Since taking office, the Obama administration has lobbied Congress hard for a delay.
"The new administration wants to do things their way," said Thomas Eagan, senior media analyst at Collins Stewart. "I think they were concerned by the way it had been handled over the past year and past month, and that it left folks vulnerable. I don't think it's an industry-sourced decision."
Cable Companies Not Happy
The cable industry does not benefit from the deadline being pushed back, Eagan said.
"The cable operators are likely to gain customers due to this transition," he told the E-Commerce Times. "Now, instead of getting these customers in February or March, they may not get them until July or August."
Meanwhile, satellite television provider Dish Network has been very aggressive in offering low-level TV and telephone packages in an effort to scoop up some of the customers that will make the transition to digital TV.
"Dish is offering a very compelling package," Eagan said. "It also rolled out its own coupon-redeemable box… They're trying to lure people to the Dish Web site, offer them a $40 redeemable coupon, and then hoping to upgrade them."
However, what really has the cable industry ticked is the millions of additional dollars it will have to spend to ensure consumers continue to be informed if the Feb. 17 deadline is indeed extended, Precursor's Cleland said.
"There were problems with the original deadline, and there will be problems with delaying it," he said. "This is a big, complicated transition that requires many industries and the TV-watching public to be on the same page."
A Fait Accompli
At this point, it looks almost certain that the delay will be approved by Congress.
"When the new administration and Congressional leaders said they wanted a delay, even though some didn't like it, it was pretty much a fait accompli," Cleland said. "The Democrats hold wide margins in both the House and the Senate."
Despite the cable industry's opposition to a delay, there won't be enough time for one segment of television broadcast competitors to gain an advantage over another, he noted. "We're talking about a four-month delay. If this was a year delay, then you could line up everyone and say these are the winners and losers."