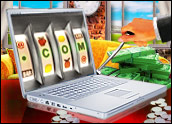 Illinois Governor Rod Blagojevich wants to sell the entire Illinois lottery — including the emerging online ticket sales operation — to fund education for Illinois residents. The plan is generating opposition from expected, and unexpected, quarters, but don't count me among the opponents — just yet.
The state of Illinois, where I've lived for the last 10 years or so, after previously living in Washington, D.C., is in a financial mess, pretty much because of the irresponsible fiscal policies of the incumbent governor. Anything he does that can get us out of this mess is OK with me, and, probably millions of other taxpayers here.
Blagojevich, a Democrat, claims a deal could generate as much as US$10 billion, but won't release a study, produced by Wall Street's Goldman Sachs, a leading investment bank, on how that estimate was reached. Until lawmakers get some straight answers in that regard, they'll continue to raise persistent questions, said Rep. Careen Gordon, a Democrat of downstate Morris.
What's more, last week, the anti-gambling group, Illinois Church Action on Alcohol and Addiction Problems (ICAAP), held a news briefing to blast Blagojevich's brash idea, saying the expansion of Internet gambling will follow.
Expansion to Come
A private company is likely to expand the lottery, adding keno, and video lottery, said Anita Bedell, the group's executive director.
"If the Illinois lottery is sold," Bedell said, "it would be very difficult to rein in the lottery games that are proposed."
This seems to me to be something of a canard. Illinois already has a plethora of gaming, casinos and the like. The Internet operations are really starting to take off. Legislators and other interest groups are concerned that private investors are going to expand it further? Give me a break. Whom do they think counsels the state government on running the casinos, and setting up the new operations? Do these folks think Wall Street is some kind of altruistic organization that just wants to help people?
Surprisingly, House Speaker Michael Madigan, whose support could determine the fate of Blagojevich's plan in that chamber, and who is an ally of the governor, sent out a letter a little over a week ago to the governor and lawmakers, raising his own questions about the bold proposal.
Before he and other lawmakers will deal, they want to know which schools, specifically, will benefit, from the plan, how the governor's office came up with its estimates and what happens when the money from the sale or lease runs out and school districts are once again looking for funding.
Madigan said the initial infusion of $4 billion in cash will be depleted after just four years.
"We must consider our obligations not only to those who need help today, but also that we keep the state on a sound financial footing so that we can meet our responsibility to those who will need our help tomorrow," Madigan wrote.
Blagojevich spokesperson Becky Carroll downplayed the comments, saying the letter is "a normal part of the process."
Capra Is Watching
Yes, that's right. He's probably looking for his own share of the action. Illinois politics makes the corruption of "Mr. Smith Goes to Washington," the classic Frank Capra film, starring Jimmy Stewart, seem like grade school pranks. Capra is watching from Heaven, no doubt, bemused at the high dudgeon act.
The governor hopes to sell or lease the state lottery, which he believes will bring $10 billion to state government. A total of $6 billion will be invested in an annuity to provide the state approximately $650 million a year for the next 17 years, replacing the money the state now earns from lottery sales.
The other $4 billion will be spent to increase education funding for the next four years. Blagojevich said the money can be used to increase per-pupil spending, replace aging textbooks, upgrade classroom computers and pay for a school construction program.
The governor's office said it did not want to release the Goldman Sachs study, because it could give large gaming companies too much information, enabling them to drive down the price of the purchase.
Some lawmakers complained, however, that $10 billion is not enough money to get them interested in privatizing the lottery. More money is obviously needed. To paraphrase, I think it was former Senator Mike Mansfield, who was once Senate Majority Leader in Washington, ten billion here, ten billion there, now you're talking real money. To get this to happen, the governor needs to talk real money really fast.
---
Gene Koprowski
is a Lilly Endowment Award-winning journalist, TechNewsWorld contributor and nationally syndicated columnist.
---