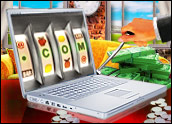 Attempts by lawmakers to ban Internet gambling by U.S. residents hit a roadblock this week when a bill that would have made it illegal for banks or credit card companies to pay for online gaming was halted.
A procedural move scuttled an attempted by Republican Senator Jon Kyl of Arizona to slip an amendment onto a spending bill that would have required that banks and credit card companies block payments to known Web gaming sites.
Right to Operate
Dozens of such sites exist, despite the fact that such online gambling has not been legalized in the United States. Most of those sites operate from overseas or offshore locations and have been deemed by international regulators to have a legal right to operate in the U.S. because various states allow some types of gambling, from casinos to horse race betting.
Similar bills have made it partway through the legislative process in the past, only to die in committee or fall short because the House and Senate could not agree on specific details.
This time an anonymous Democratic lawmaker blocked the attachment of the provision to the spending bill. Kyl vowed to press forward. "There should be no reason why we can't move forward on this," he said on the Senate floor.
Hot Topic
Any future attempts will be closely watched and likely fought by some parts of the gambling industry. The horse racing industry, for instance, is said to be worried that broad prohibitions on online gaming could be construed as rendering illegal interstate betting on horse racing now allowed by law.
The issue of online gambling has been a hot topic among lawmakers, regulators, law enforcement and private groups since the early days of the Internet. But recent surges in popularity of online poker playing and concern that people under 18 are able to use the Internet to gamble on sporting events has brought the issue to the forefront in recent months.
Complicating matters was a ruling by the World Trade Organization that said that U.S. law enforcement agencies could not go after offshore betting sites because the U.S. itself did not have a single national gambling regulation but different rules in each of the 50 states.
Everything from casinos run by native American Indian tribes to state lotteries can be construed as legal gambling and the U.S. must allow international interests the same opportunities, that ruling states. But federal lawmakers have considered several proposals for an outright national ban on Web gambling.
"The U.S. is going in a different direction from the rest of the world on this," said Sebastian Sinclair, an Internet gambling analyst with Christiansen Capital Advisors. "Most other places are either embracing it or at least recognizing the need to build in safeguards."
The prohibition against online gambling in the U.S. has apparently no impact on growth so far, Sinclair added, with American gamblers expected to spend some US$11 billion online this year alone.
Piece of the Action
Concerns about online gaming include the ability for underage gamblers to take part and what some see as an increased risk of addictive behavior, since the Internet brings gambling to a user wherever he or she is and is available, 24 hours a day.
Even as lawmakers considering banning online gambling, the U.S. casino industry is exploring ways to capitalize on the move to the Internet, which some say poses a threat to the profits of casinos in cities such as Las Vegas and Atlantic City.
Las Vegas casinos recently began testing handheld gaming devices. So far, the devices are only approved for use within casinos themselves, though some see them as a precursor to more widespread gambling.