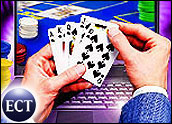 In a move likely to have reverberations across the Web, online poker site PartyGaming has filed for what could be one of the largest initial public offerings in the recent history of the London Stock Exchange.
PartyGaming, which is based in Gibraltar, said it will seek to stage its IPO by the end of June, with shareholders selling some 23 percent of the shares up for sale. Estimates of how much the float will raise vary widely, with some projections saying the sale could value the company at between US$8 billion and $11 billion, making it one of the largest publicly traded concerns in the UK.
The firm's reach is global, including into the United States, where its PartyPoker site has seen a surge in popularity amid the poker-playing craze fueled by televised high-stakes tournaments and the ease of playing online. It also operates sites such as the Starluck Casino and PartyBingo.
Rapid Growth
The company said it had 2004 revenue of $601 million, nearly five times its 2003 levels. It's also highly profitable, posting net income of $350 million in 2004, up four-fold over earlier levels. In the first quarter of 2005, it had sales of $222 million, nearly double 2004 levels.
The firm's rapid growth and strong profitability make comparisons to the last large Internet-related IPO — of search engine Google — inevitable. Also, it comes at a time when UK investors are apparently hungry for Web-related offerings. Earlier this week, FireOne group, which handles online payments, saw its stock rise 16 percent after its IPO.
However, the gambling company faces almost certain regulatory challenges in the years to come in some jurisdictions, as governments around the world grapple with the question of how to respond to the growing use of off-shore sites to skirt local gaming regulations. That could make investors balk somewhat, though demand for the offering is expected to be strong.
Royal Flush
Meanwhile, though online gaming is surging, the market is currently split among many players, the company said in a statement, making it ripe for a strongly financed leader that could make strategic moves such as acquisitions.
"The online gaming market is fragmented and geographically diverse, which presents opportunities for strategic acquisitions and market consolidation," Chief Executive Officer Richard Segal said.
The gambling company currently employs about 1,100 people in Gibraltar, Great Britain and India, with many of them holding options to buy stock that does not vest for several years.
Gambling consultants Christiansen Capital Advisors estimates that the online gaming market will more than double in the next five years, growing from $11.9 billion this year to $24 billion by 2010. That assumes 22 percent growth each year, the type of astronomical expansion rates that marked the earliest days of traditional e-commerce.
Analysts say all the ingredients are in place for gaming on the Web to continue to boom and to outpace the growth of casino gambling. High-speed Web connections and more powerful computers give online games the speed and feel of live action.
Comfort Level
They also note that people who are not comfortable gambling at a casino, particularly in high-pressure, head-to-head games such as poker, are more willing to do so online, Christiansen analyst Sebastian Sinclair said.
"The audience for online gaming will continue to expand faster than almost any other form," he said. In the U.S., the surge will pressure traditional casinos and state-run lotteries as players find more options available.
At the same time, consumer advocates worry that creating easier and always-open access to gambling will only exacerbate problems among those with addictions to gambling and will also expose more young people to gambling. They note that controls in place at licensed casinos result in strict compliance with minimum age rules and put controls in place to ensure that gamblers do not exceed their means when placing bets.
To some, that underscores the need to regulate online gaming, rather than the current U.S. stance of considering it illegal even while growing legions of citizens take part in the activity.
Full House
The United States, meanwhile, is still working through an earlier development in the debate over online gaming. In April, the World Trade Organization (WTO) said the U.S. was wrong to forbid its citizens from betting on sporting events and other activities through offshore sites when some states allowed the same activity.
Both Antigua, the Caribbean nation where many such offshore gambling concerns are based, and the U.S. claimed victory in that case, casting doubt on what will happen next, Javad Heydary, a Toronto-based lawyer and managing editor of Laws of Dot Com, said. Heydary also writes a column for the E-Commerce Times.
In fact, Heydary pointed out that online gaming is very common in Nevada, despite state laws prohibiting it. Casino Web sites have become so bold, he said, that some have begun to advertise their sites, including PartyPoker.com, on radio and TV. He noted that the U.S. Department of Justice has long maintained that such online gaming ads are illegal and has taken some enforcement action in the past.
Regulation in the Future?
Despite such moves, more than half of all offshore bets are placed by U.S. citizens, Heydary added.
Heydary believes that at some point, the U.S. will need to consider regulating such businesses explicitly, allowing them to operate under strict conditions, as the UK has done.