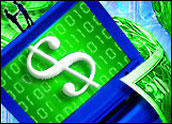 Online retail sales grew by nearly 24 percent in 2004 and will grow another 22 percent in 2005 as consumers continue to be drawn in droves to the convenience of e-commerce and as retailers become better at converting online shoppers into buyers, according to a new report.
The State of Retailing Online 8.0, the annual report produced by Shop.org — the online arm of the National Retail Federation — and Forrester Research, said 2004 sales reached US$141.4 billion, an increase of 23.8 percent. For 2005, the report predicts slightly lower growth of 22 percent, taking sales to $172.4 billion.
While sales are growing, profits are as well, the report said, with online retailers boosting their overall operating margins considerably.
Refocus on Innovation, Growth
"With profitability behind them, retailers can now focus on innovation and growth through things like increased integration of their online and offline businesses and internationalization of their sites," Carrie Johnson, Forrester Research analyst and author of the report, said.
The rosy report comes a few days after the latest quarterly figures on e-commerce from the U.S. government's Census Bureau. That agency reported that first-quarter sales rose to $19.8 billion, a 24 percent jump from the year before and a 6 percent increase over the fourth quarter of 2004.
Analysts have long expected the growth of e-commerce to at least moderate, but as the Shop.org study notes, growth has been nearly steady for the 10 years since buying online first became an accepted practice.
Johnson said retailers will need to look to new areas to sustain their growth and said international sales is fertile area.
"One way retailers will grow sales over the next several years will be by launching country-specific sites and operations to accommodate a growing number of international customers," she said.
Growth will also continue to be fed by the rising number of women buying online. Shop.org Executive Director Scott Silverman said growing comfort with e-commerce among female buyers will drive 33 percent growth for online fragrance sales, a 32 percent rise in over-the-counter medicines and personal care items, and 30 percent growth in the flowers, cards and gifts segment.
More Women Shopping Online
"Though initially adopted by men as a shopping tool, women are flocking to the Internet in droves to comparison shop, research and buy," Silverman said. "Online retailers who sell products that are purchased by women are in a favorable position this year, as we expect those categories to grow substantially."
The percentage of total overall retail sales being conducted online is also growing rapidly, reaching nearly 5 percent last year when travel is excluded.
This year, the report predicts several categories will see more than 10 percent of their sector's overall sales take place on the Web, with some above 20 percent, including computer hardware and software, with nearly 50 percent of sales coming from the Internet, and books, at 20 percent. Consumer electronics, toys and video games and travel will also be at or above 10 percent.
Profitability and sales growth are both attributed to enhanced efficiency among e-commerce players in converting shoppers to buyers, Johnson said, and in bringing new shoppers into the fold by using the latest Web technology.
In 2004, most new customers came from search engine marketing, as some 43 percent of first-time visitors were directed to a site by a search placement.
Conversion Rates
The report and other data suggest there is work for e-tailers to do, however, particularly those who began as brick-and-mortar retailers. A recent report from Nielsen//NetRatings found such chains lagging when it came to how often they converted shoppers into buyers.
By comparison, multi-channel retailers such as QVC, Lands End, Coldwater Creek and LLBean.com had the highest conversion rates, with pure-play e-tailers such as Amazon and eBay close behind. The top 100 retailers had an average conversion rate of about 5 percent, with QVC topping the list at more than 16 percent.
"Brick-and-mortar retailers are noticeably absent among the top performers in online sales conversion rates," Heather Dougherty, senior retail analyst at Nielsen, told the E-Commerce Times.
Catalog retailers do have a natural leg up on competitors, she noted. "Customers visiting a catalogers' Web site already have the information they need about the product, and therefore are ready to make an immediate purchase," she added.
However, brick-and-mortar retailers might enjoy other benefits from their Web operations, the Shop.org study suggests. Retailers surveyed by Shop.org said the Web influenced 20 percent of all in-store sales.
That, in turn, has created more interest in integrating channels, with retailers posting their online Web addresses in stores and more chains allowing returns or gift card redemptions either online or in stores.