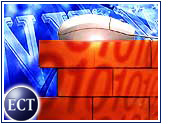 It is fitting, somehow, that the company whose name became synonymous with catalog sales will buy the company that has become the largest specialty clothing retailer in both Internet and catalog sales for a staggering US$1.9 billion.
Sears Roebuck & Co. will pay $62 per share for Lands' End — 21 percent more than Lands' End stock was worth last week — in an effort to edge ahead of competitors like J.C. Penney.
News of the acquisition sent both companies' shares up, with Sears shares gaining 44 cents to $52.25 and Lands' End shares soaring 20 percent to $61.73. Before the announcement, Sears stock had fallen during the trading day to $50.65.
Internet Magic
For Sears, which has seen its clothing sales drop off in the face of competition from Wal-Mart and other large discounters, the deal will let Lands' End work its Internet magic on the Sears.com Web site. It also will reintroduce the 109-year-old retailer into the catalog business, which it exited in 1993 when it stopped distributing its huge catalog.
"Lands' End is a very successful and well-managed company," Sears CEO Alan Lacy said. "We were drawn to Lands' End's brand strength across all apparel categories, including men's, women's and children's. It is an excellent fit for Sears and our customers and will aid us in becoming the preferred shopping destination for families.
"We can help accelerate the growth of the Lands' End direct business through Sears' extensive customer relationships," Lacy added.
Both To Benefit
While Lands' End and Sears will be operated separately, with Lands' End remaining headquartered in Dodgeville, Wisconsin, Lands' End CEO David Dyer also will head up Sears.com and Sears' direct marketing efforts, including catalogs and specialty sales. He will report to Sears CEO Lacy.
In addition, Lands' End clothing will be sold in most of Sears' 870 retail stores, taking up 15 to 20 percent of shelf space designated for clothing by 2003. The giant retailer said it also plans to offer other Lands' End products.
"Strategically, we view retail distribution of our products as an important growth opportunity," Dyer said. "We were considering the prospect of opening stores ourselves or seeking a strategic partner, and ultimately decided that our alliance with Sears offered the most exciting opportunity."
Integration a Hurdle
"They definitely have to integrate all their channels tightly," Yankee Group analyst Sheryl Kingstone told the E-Commerce Times, noting that Lands' End has been very successful online. "They have to integrate that with [Sears] stores."
Kingstone noted that buyers eventually will be able "to buy [items] online and return them at a Sears store. That is a definite benefit to the consumer.
"They are not there yet," she added, noting that integration will take quite some time.
Sears Protected
The deal, which is scheduled for completion next month, met with approval on both sides of the bargaining table. Lands' End shareholders, including company founder and chairman Gary Comer, agreed to tender their shares, which account for about 55 percent of the company's outstanding common shares.
While Sears is paying better than top dollar to buy Lands' End, it is protected by a clause that calls for Lands' End to pay Sears $75 million if the Internet apparel seller walks away from the deal or accepts another offer.
Last year, with 30 million customers, Lands' End posted revenue of $1.57 billion.