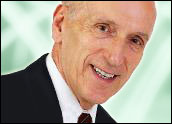 One of the greatest challenges facing small businesses today is the acquisition of capital. In a previous article, "Finding Dollars for Small-Cap Companies," I explored the non-underwritten IPO as a source of capital for the small business. This article addresses two other sources of capital for the small business — the Angel Investor and the Venture Capitalist.
There are, of course, traditional banking routes via which a businessperson can secure funds for his/her growing enterprise. Unfortunately, if your company doesn't have a steady stream of income, that is, profits, it is usually a difficult task. Bankers want to be assured of repayment, and they usually look first and foremost to historical financial statements as the major source of that repayment.
Fortunately, there are other avenues that the small businessperson can explore: the angel investor and the venture capitalist. Let's take a look at these sources of capital and weigh their pros and cons.
The Angel Investor
What is an angel investor? It is a financial backer who provides venture-capital type funds to small businesspersons, startups and entrepreneurs.
Who is an angel investor? It could be a friend or relative (not a good idea), or it could be a professional angel investor. My choice would be the professional angel because dealings with him/her would be strictly business and at arm's length.
How does one find an angel investor? If you go to the Web and do a Google search, you can find about a quarter of a million hits on the subject. In other words, there are plenty of angels out there!
What should one expect from an angel? Actually, it's difficult to answer that question because angel investors are not a homogeneous group. Many of them are acting singly and have their own standards for the type of businesses they are interested in and what they expect in return for their investment.
There are also angel investor partnerships. These, too, are unique in that the standards and prerequisites of the partnerships may vary quite widely. Therefore, you must look around and try to partner with an angel in whom you have confidence and with whom you believe you could work.
Another way to look at finding the right angel investor is to determine how much control you would be willing to give up for your investment. You must clearly know your financial needs and the extent to which you would be willing to work with an "outsider."
How does one convince an angel to invest in a company? There are two ways: the Business Plan (BP) and the Budget. You must have a thoroughly prepared BP and Budget that are reasonable and prepared based upon assumptions that are eminently doable.
Approaching the Angel
Here's how I would approach an angel. First of all, remember that the main reason most angels have money to invest is that they are competent businesspeople. Don't bring them a haphazardly prepared BP and Budget. You should expect the angel to be competent and thorough, and you should be the same.
Second, make sure that you have an amount in mind for how much of an equity infusion you need. Also, make sure that you have a good feel for how much control you would be prepared to relinquish.
Always keep in mind that control will be diminished when you have an outsider invest in your company. When you are figuring out how much control you would be prepared to part with, be sure to get input from your accountant, attorney or consultant. It's not an overwhelming task. It is, however, a quantifiable task. In other words, you really can apply logic and reason to your considerations as to how much control you are willing to part with.
Make your computations fun. Look at your ownership (let's say that it's 100 percent) and think about how much of that you would be willing to part with. Figure out how much value-added would accrue to your ownership by inviting an angel to invest in your business.
You might be pleasantly surprised to find out that you would not be giving up value, per se, when you have an angel investor. Rather, you might be adding significant value to your business, even as you may be diminishing your ownership percentage.
Ask yourself, "Can I live with making joint decisions with someone else, or must I have total control?" Give this element of control a lot of thought — you'll have to live with your decision for a long time, so you must be totally comfortable with it.
Venture Capitalists
Now let's take a look at another alternative — venture capital. This source of funds is quite different from that of an angel investor.
Venture capitalists (VCs) typically provide money to startups and small businesses that promise exceptional growth. They always have an exit plan. In other words, they will be looking to recoup their investment plus make a sizable profit at a predetermined point in time.
Dealing with a VC is often different than dealing with an angel. Many times, a VC will insist on a hands-on approach to your business. VCs will become actively involved in your operations, as opposed to an angel who, in many circumstances, will make the investment and then merely monitor your business's progress periodically.
The upside of working with VCs is that often they can bring managerial and technical expertise to your company. They usually invest in a business that they know something about. This can be good.
The downside is the level of control they may wish to exercise over your project. Usually, this will involve at least major decisions in your company, not necessarily day-to-day supervision. If something goes wrong with your management, for example, they might insist on installing a new CEO of their choosing.
Consider the pros and cons associated with these two methods for raising money for your business. Give it a lot of thought. You'll have a long time to live with the results of your decision, and your choice can affect your investment.
Small businesses are usually challenged when it comes to the ability to raise money. But raising money is not impossible. It's doable! You must, however, approach your search for capital in the most professional manner possible. Good luck!
---
Theodore F. di Stefano
is a managing partner at Capital Source Partners and can be contacted at
[email protected]
.
---