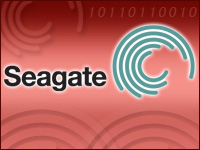 Seagate will take over Samsung's hard disk drive operations as part of an expansion of the companies' strategic relationship announced Tuesday. The HDD deal is one of multiple transactions totaling US$1.375 billion, which will be paid by Seagate to Samsung, half in stock and half in cash.
This could be Seagate's return fire at rival Western Digital, which announced last month that it would buy Hitcachi's disk drive business.
The patent cross-licensing agreement between Seagate and Samsung will be enhanced and extended. Seagate will provide disk drives for Samsung PCs, notebooks and consumer electronics. Under a new shareholder agreement, a Samsung executive will be nominated to join the Seagate board of directors.
Seagate also reported its third quarter financial results Tuesday. Revenue fell to $2.7 billion, down from $3.05 billion in the same period last year. Seagate earned $93 million during its third quarter, down from $518 million in the same period in 2010.
The companies expect the strategic agreement will help align their current and future product development efforts and road maps. They hope to further address new opportunities in the market, including cloud computing, mobile computing and solid state storage.
Neither Samsung nor Seagate responded to the E-Commerce Times' requests for comments by press time.
Solid State Slams HDD
The popularity of solid state has started to erode the market for HDDs. With the PC market shedding share to tablets, the future for HDD doesn't require shades.
"Well, it's taken 15 years longer than anyone expected, but it's clear that solid state storage is finally having an impact on HDDs," Jim McGregor, chief technology strategist at In-Stat, told the E-Commerce Times. "Part of that is also due to the explosive growth of mobile devices. HDDs no longer satisfy every segment of the computing and CE market. The TAM is slowly shifting to the servers from the PCs."
When profits get squeezed, companies merge to protect themselves. Yet even with a smaller number of players, prices will likely remain low for HDDs.
"Since margins are already razor thin, one would only expect a consolidation in the market," said MeGregor. "It will be interesting to see what impact this has on HDD innovation and pricing. With continued pressure from SSDs, I would expect pricing to remain competitive. Seagate will still have to fight to remain competitive in the overall storage market."
Even with a diminishing market, McGregor sees "huge synergies" for Samsung and Seagate. "Samsung can provide Flash for Seagate's SSDs, and Seagate can provide HDDs and SSDs for PCs, CE devices, and servers and infrastructure, which is now an expanding focus for Samsung."
Consolidating a Commodity Market
We could be witnessing the consolidation of the disk drive business into a few major vendors.
"Device manufacturers have forced disk makers into competing as commodities, and that's taken its toll on the companies who manufacture those disks," Carl Howe, director of anywhere consumer research at the Yankee Group, told the E-Commerce Times. "The fact that solid state disks are now capturing the high-performance, high-value end of the market means that disk manufacturers are getting squeezed."
Seagate still has a lot of innovation to offer, in Howe's view, especially in the area of hybrid drives, where performance is enhanced and prices are low.
"It will be years, if not decades, before flash-based SSDs are able to compete on a per-bit basis with hard disks," he predicted, "and Seagate has its Momentus XT line of hybrid products that provide SSD performance at hard disk prices. While Seagate has had teething problems with that particular product, I think follow-on versions of that product show real promise for both cost-conscious and performance-conscious buyers."