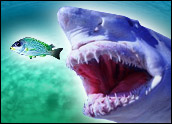 In a move to cash in on a booming market for local business searches, SBC Communications and BellSouth plan to acquire YellowPages.com.
Together, SBC and BellSouth plan to develop a comprehensive, nationwide online business index that leverages the Yellow Pages brand name. The acquisition will combine 50 million monthly consumer searches through a joint venture between the two telecoms.
The deal is expected to close as early as today. Financial terms of the purchase were undisclosed.
The new venture will be headquartered in Pasadena, California, with operations in Henderson, Nevada, and it will draw on the technology, management, sales forces and customer care capabilities of all three companies. SBC's SMARTpages.com and Bell South's RealPages.com plan to begin displaying their advertising on a co-branded YellowPages.com site in early 2005.
According to data the duo issued, shoppers use Internet search for local purchasing decisions some 3 billion times a year, and online directories have an additional 3 billion searches annually.
Traffic To Double
Estimates by The Kelsey Group, a local media consultancy in Princeton, New Jersey, indicate that traffic is expected to double within the next five years.
"To be a leader in online yellow pages, you need two things: traffic and strong local advertising relationships," Dennis Payne, president and chief executive of SBC Directory Operations, said.
"This new venture gives us both the strong consumer traffic from YellowPages.com, SBC's SMARTpages.com and BellSouth's RealPages.com Web sites, plus enhanced local advertising content provided by SBC Directory Operations and BellSouth Advertising and Publishing," Payne said.
"Both print and Internet yellow pages are an extremely important part of an integrated advertising message," Elmer Smith, president of advertising and publishing for BellSouth, said.
Other Competitors
"As local Internet search becomes a mainstream method of linking buyers and sellers, this new venture will be well positioned to capitalize on the growth in online advertising as a fundamental part of our publishing strategies," Smith said.
It certainly has all the makings of a headlining deal, but Danny Sullivan, editor of SearchEngineWatch.com, told the E-Commerce Times that searchers might be able to access some of the same information in other ways. Yahoo Local and Google are also playing in this estimated $100 billion advertising market.
"Both companies already seem to have their own online yellow pages sites," Sullivan said. "But some consumers, thinking they want 'yellow page' listings, may naturally guess at YellowPages.com."