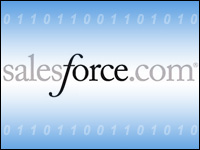 Salesforce.com expanded its advertising initiatives this week with the launch of Social.com, a platform designed to help brands tie ad campaigns to what's trending on social networks.
The new platform bundles Salesforce.com features that resulted from the company's acquisitions of Buddy Media, a provider of Facebook ad software, and social media monitoring firm Radian6. The result combines eal-time customer and social listening data with the ability to quickly build ads that are timely and play into social conversations. The platform can be used to create, optimize and automate social ads.
Salesforce.com, which built its reputation in the customer relationship management and cloud computing segments, is now trying to tap a rapidly growing market. Spending on social ads is projected to grow from US$4.7 billion in 2012 to $11 billion in 2017, according to a BIA/Kelsey report. In addition, a Nielsen report said as many as 64 percent of marketers are expected to increase ad spending on social advertising this year.
The Platform
Brands, ad agencies and retailers using Social.com will be able to access it from Salesforce.com's Marketing Cloud site. The platform, which also promises ways to create mobile ad initiatives, lets users test and target their campaigns in order to reach the right audience. The resulting ads can be localized and tied to whatever is trending with tweets or Facebook posts.
"The Social.com platform allows brands and agencies to manage all of their advertising campaigns across Facebook and Twitter, both of which are partners with Salesforce.com," Gordon Evans, Salesforce.com vice president of product marketing told the E-Commerce Times.
An optimization tool helps marketers track and analyze metrics using live campaign monitoring. Advertisers also get real-time feedback regarding ad performance. When brands or agencies plug in their campaign goals, the Social.com platform will optimize to run itself and provide feedback.
"I think the real goal Salesforce.com is aiming at here is to become a 'one stop shop' for orchestrating cross-media, including traditional and social environment marketing strategies. The cost/complexity of managing such efforts in-house would be prohibitive, especially as people increasingly leverage various social sites and services commercially," Charles King, principal analyst of Pund-IT told the E-Commerce Times.
Advancing Salesforce
The platform extends the reach that companies have, and helps marketers respond when the social conversation is still happening.
"Companies have an incredible amount of customer data, but are not able to leverage this data in real-time," Evans said. "Social.com will enable advertisers and ad agencies to deliver targeted ad campaigns to the right people at the right time, connecting with both current and potential customers by using Radian6's listening capabilities to tap into real-time conversations from over 500 million sources."
Salesforce.com's new platform helps it join competitors that have also moved into the advertising and marketing segments.
"We're seeing the advance of marketing suites as evidenced by Microsoft's recent acquisition of Marketing Pilot, and Oracle's recent acquisitions of Eloqua, Vitrue, and Involver," Brian Vellmure, management consultant and industry analyst for Innovantage told the E-Commerce Times. "Salesforce's release of Social.com is a well-positioned and innovative next step in providing a suite of capabilities to marketers."
"I think it was the plan when they made the (Buddy Media and Radian6) acquisitions," said tech analyst Rob Enderle of the Enderle Group. "This is why they acquired the companies in the first place. This is the execution of that plan."
Coordinating efforts across an ever-increasing array of channels is becoming a challenge for marketers, said Vellmure. "Providing the ability to conceive, segment, create, distribute, and measure at scale and in real time is a requirement for next-generation marketers."