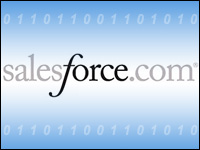 Dampening the enthusiasm sparked by its successful initial public offering, hosted software pioneer Salesforce.com has issued a growth forecast that falls short of analysts' expectations.
On Wednesday, Salesforce held its first-ever analysts' meeting since going public and, while many of the presentations focused on long-range growth, the company's first formal growth projections drew most of the attention. Salesforce estimated it would have revenue of about US$165 million for the current fiscal year, which ends in January of 2005.
While that would represent sales growth of more than 80 percent over last fiscal year, the numbers are short of Wall Street analysts' widely circulated consensus forecasts of $175 million in revenue. Salesforce's profit number of 3 cents per share, meanwhile, was just half of the 6-cents consensus estimate.
The news rocked Salesforce shares, which plunged 27 percent, or more than $4, on Wednesday to their lowest levels since the IPO last month. The stock regained some of the losses in morning trading today, moving higher by more than 3 percent to 12.10. Immediately after the offering, the shares traded for around $17.
Still, Salesforce maintained that it is bucking what appears to be a widespread slowdown in the software industry, one that led several large companies to pare earnings outlooks. CEO Marc Benioff said Salesforce added 900 customers and 14,000 subscribers in the first two months of its fiscal quarter, which ends next week.
Growth Chart
The meeting at the New York Stock Exchange was a chance for Salesforce to tout its original business model, which gives customers to Web-based customer relationship management services for a monthly fee.
Benioff said the company now has around 161,000 subscribers and recently completed an upgrade of its enterprise product that includes expanded customization options.
Salesforce used the meeting to announce that Cisco Systems soon will begin using the service for its sales force and that more big customers with several thousand potential subscribers each have begun to come on board, including Automatic Data Processing and SunTrust Bank.
Benioff also pointed out that the analysts' estimates were made without the benefit of any guidance from the company and seemed to rely largely on past performance.
Forrester analyst Erin Kinikin told the E-Commerce Times that while Salesforce and other hosted software companies still capture less than 10 percent of the overall enterprise CRM market, it has a clear path to more growth.
Rational Exuberance?
"The hosted market is growing 40 to 50 percent a year," she said. "Enterprises like the fact that they can get in for less money. They start off that much closer to realizing a return on their investment," she explained.
At the same time, ease-of-use is a big seller for Salesforce, Kinikin added.
Tom Taulli, editor of CurrrentOfferings.com, told the E-Commerce Times that investors were eager to see Salesforce succeed on Wall Street and that enthusiasm for the stock may have outpaced even its growth trajectory.
"It has a good story because it's a different story and an approach that seems to make sense," Taulli said. "It has a track record of growth and profits as well, which is why people rushed to get behind it and make its IPO look so good out of the gate."
Competition Coming
Analysts have noted that while Salesforce pioneered the hosted software approach when it was founded by Benioff, a former Sun executive, five years ago, that doesn't mean it will capture the lion's share of the market.
But Salesforce shooed away talk about competition at the analysts' meeting, saying that rivals such as Oracle and Siebel, which has begun to roll out a similar offering in conjunction with IBM, have not yet been able to achieve the same level of customer service and product simplicity that Salesforce can offer.
Salesforce also used the event to tout some customer success stories. Innovex, for instance, underscored the ease-of-use for its 650 users and noted that its entire network is supported by an information technology department with just two employees.
Benioff also vowed to keep prices from rising. The average Salesforce customer pays around $70 per month per user.
"Our pricing strategy is, don't raise the prices," he said.