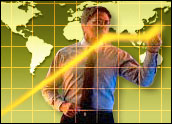 On the eve of Apple's big iPhone push, mobile communications market powerhouse Research In Motion (RIM) reported astoundingly strong BlackBerry sales. RIM's earnings were up 73 percent for the quarter ending June 2, beating expectations and surprising Wall Street.
The stock price surged more than twenty percent Friday, rising more than US$33 and reaching over $199 a share. In addition, RIM announced a three-for-one stock split in the form of a stock dividend that will be payable on August 20.
"The stock split is cosmetic in nature and has no real impact on the company's business, but it does signal that management is confident enough in the outlook for the stock to bring the price back down to the $60 to $70 range," Frederic Ruffy, an analyst with Optionetics, told E-Commerce Times.
"The next test for RIM is whether or not it can break above the $200 level, which is considered to be an important psychological and technical level. This seems like a realistic possibility with the stock up to $199.50 in morning trading," Ruffy said. "However, with shares now up more than 185 percent from one year ago, investors should also be aware that all of that good news might already be factored in today's stock price."
2.4 Million Devices
RIM earned $1.08 billion in revenue for the first quarter of fiscal 2008, up 16.3 percent from $930.4 million in the previous quarter and up 76.5 percent from $613.1 million in the same quarter of last year. The company shipped 2.4 million devices.
"We are starting fiscal 2008 with strong operating performance, including record revenue, earnings and subscriber results," said Jim Balsillie, co-CEO at RIM. "After completing our first billion dollar quarter, we are now preparing to ship the 20 millionth BlackBerry handset this summer. This growth is a testament to our strong portfolio of products and services and our successful channel expansion. We look forward to the remainder of the year in which we anticipate continued growth within both North American and international markets."
Seventy-six percent of its revenue, RIM said, came from device sales, 16 percent for services, 5 percent for software, and 3 percent for other revenue. In addition, the RIM said its total number of BlackBerry subscriber accounts in the quarter increased by approximately 1.2 million to over 9 million total subscriber accounts.
RIM doesn't appear to be slowing down. The company says it expects revenue for the second quarter of fiscal 2008 to be in the range of $1.3 to $1.365 billion, with subscriber account additions topping 1.325 million.
Consumers on the Move
RIM has traditionally sold into corporate and large business accounts rather than consumers. The iPhone, by contrast, is expected to resonate more quickly with consumers, which means RIM's and iPhone's core businesses will initially be more parallel than in direct competition. That, of course, will likely change as RIM sells more to consumers.
"This growth," Balsillie noted on the RIM earnings conference call with investors, "is being driven by more consumer-friendly devices such as the Pearl and the Curve, as well as our ongoing channel expansion initiatives."
"I've got to assume that the Pearl has been a big part of RIM's results," said Forrester Research Analyst Charles Golvin. "I've seen it around, and it seems to be very very popular. It has lots of carriers, comes in multiple colors and it seems to be a strong move in the consumer sector," Golvin told E-Commerce Times.
"I'm hearing that a significant percentage of people are buying the Pearl and are not activating a data plan — not using it for e-mail," he added. "They are using it as a phone and a text messaging device, which is pretty interesting, and what that shows is that there's some coolness to having a BlackBerry, so the Pearl has become an attractive object in that segment."
The iPhone Buzz
RIM sells in more than 100 countries and has service agreements with approximately 300 carriers. For now, the iPhone will only be available in the United States via AT&T, giving RIM a much larger market to sell into over the next several months.
"I think they [Apple and AT&T] did a great favor because they drove attention to the converged appliance space," Balsillie noted in the call. "I think the awareness and direction they've built there is really key. iPhone is launching, to the best of my knowledge, in one carrier in one country, and we're in about 100 countries and 300 carriers. So to the extent that there's interest there, there is another 109 countries that are interested in these kinds of things."
The other carriers in the U.S. that can't offer the iPhone, he noted, will create a "response dynamic" that would presumably benefit RIM.
"iPhone will absolutely not impact RIM in the enterprise one iota, but rather look for RIM to take a strong shot at Apple on the consumer side if Apple proves it can sell a $600 device," Tony Rizzo, a mobile software analyst for The 451 Group, told the E-Commerce Times via his BlackBerry while on vacation Friday.
"There is a huge amount RIM — and any other competitors — can do at that price point. The competiton won't let Apple get close in this market even on the consumer side," he added. "There will be no enterprise impact by Apple, but look for super-aggressive action on the consumer side from the big mobile phone players. Apple will end up being a marginal player here."