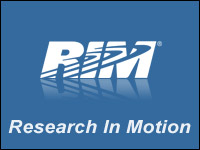 With a market cap that has fallen from US$83 billion in 2008 to $13 billion currently — an 82 percent decline — rumors are popping up that RIM is ripe for takeover.
The company may be an interesting target for firms like Microsoft and Dell, a representative from BMO Private Banking told Bloomberg. A potential buyer would get a smartphone maker that is still dominant among corporate clients at a bargain basement price.
The BlackBerry maker has lost so much value that an acquirer could pay a 50 percent premium and still buy it for a lower multiple than any other company in the cellphone industry.
RIM's shares fell after an announcement that quarterly sales were expected to drop for the first time in nine years. Its stock is currently at $28.61 a share.
RIM would be valued at 7.29 times next year's earnings, according to data compiled by Bloomberg.
RIM generated $2.87 billion in free cash flow from operations after capital expenses in the past year — equal to about 21 percent of its market value, the highest proportion in the industry.
RIM launched its BlackBerry PlayBook in India on Wednesday, which sent shares back up slightly.
In response to a request for information on the takeover chatter, RIM spokesperson Jamie Ernst told the E-Commerce Times that "it's RIM's standard policy not to comment on rumors and speculation."
Treasure Trove of Assets
The low share price is alluring, and RIM has sufficient assets to warrant the investment — but only if the takeover company is the right match.
"While in terms of share price, RIM may be reaching a point where a takeover is becoming a financial reality for large tech companies flush with cash, many may find that buying RIM is not a good fit for their technology path or business models," Michael Morgan, senior analyst, mobile devices for ABI Research, told the E-Commerce Times.
Among RIM's desirable assets is QNX.
"Having the QNX platform IP would give a buyer the ability to have their own proprietary platform for mobile devices that could be used to reduce a company's dependence on licensed mobile OSes such as Windows Phone or Android," said Morgan.
BES/BIS are also valuable assets.
"While these technologies are struggling to keep up with some of the new consumer, enterprise, and multidevice paradigms, this technology set can deliver a proprietary messaging platform and mobile device management platform that is trusted by carriers and enterprises," noted Morgan.
"However, if the purchaser were to buy RIM for this IP and ignore RIM's current business, it would require a fair piece of work to repurpose this IP to the new buyer," Morgan pointed out, "and the end product may have lost it customer trust by the time the transition is completed."
Ultimately, RIM's greatest asset may be its position in the market Even though it's a bit tarnished, RIM is still formidable.
"In essence, the value is RIM's revenues streams, market share and brand," said Morgan. "If a purchase were to occur, I would see a private equity firm buying RIM and making some management and strategy changes to turn the company around."
As for a cellphone brand owner buying RIM, Morgan is doubtful. Handset makers already have what they need, and RIM would not be a logical addition.
"The largest established handset OEMs have little need to buy RIM. They are already moving forward with their own OS and technology strategies, and they already have global presence," he said. "They could only gain a few pieces of IP from RIM, and that may not hold enough value even at the reduced prices."
Powerful Weapon if Wielded Properly
A company looking to take over RIM would need a cohesive plan to get the formerly successful BlackBerry producer back into gear. The smartphone arena is a tough place to fight it out, and RIM really needs a boost.
"A purchase of RIM would be a surprise, given the size of the company and the markets that it's in," Allen Nogee, principal analyst for wireless technology at In-Stat, told the E-Commerce Times. "The mobile phone business is one driven by innovation more than almost anything else. So a potential purchaser would need lots of money and many new ideas on how to compete in this very competitive business."
RIM's workforce and production and distribution channels could be valuable if integrated into another company, though. The buyer would get an instant system to produce and distribute a gazillion phones.
"Of course, RIM also comes with thousands of employees with real-life experience in the phone business," said Nogee. "Also, RIM's server software is already installed on almost all enterprise systems. That is a large advantage for a company that could take advantage of that."