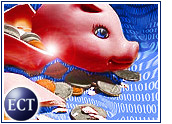 3Com Corp. (Nasdaq: COMS) was down 3 3/16at 9 9/16 early Tuesday after the company became the latest high-tech company to predict a revenue shortfall for the coming quarter.
The Santa Clara, California-based maker of networking equipment said revenuefor the second quarter ended December 1st will be US$785 million to $800million, below previous expectations, and resulting in a bigger loss thanoriginally thought.
Revenue from ongoing businesses — the product lines that are not beingdiscontinued — will account for $765 million to $780 million in sales, belowthe originally expected $870 million to $910 million. The loss beforeextraordinary items will be 19 to 23 cents per share, much wider than the 7to 9 cents the company previously predicted.
The company attributed the shortfall in part to restructuring in the telecom industry,with many large customers consolidating and smaller ones facing financialconstraints.
"3Com has not been immune to the trends affecting the telecom sector," saidpresident and chief operating officer Bruce L. Claflin. "However, we believethis sector has substantial long-term growth opportunities, and we areinvesting accordingly."
3Com joins a growing list of high-tech firms issuing warnings about revenueand profits. On Thursday, similar warnings from computer maker Gateway, Inc.(NYSE: GTW) and Altera Corp. (Nasdaq: ALTR) sent stocks plunging asinvestors worried about a slowdown in the U.S. economy.
Gateway said slow sales of personal computers during the holiday season willresult in flat revenue for the current quarter, and a write down fortechnology investments will further hurt results.
3Com said it will report first-quarter results after the close of tradingDecember 21st.