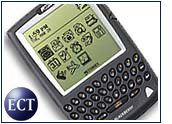 Research In Motion (Nasdaq: RIMM) was upUS$2.63 at $43.63 in morning trading Monday, after the maker of the BlackBerry wireless e-mail communications device announced what it calledits "first major European supply agreement."
Research In Motion, based in Waterloo, Ontario, said it will supply UKmobile telecommunications operator BT Cellnet with BlackBerry EnterpriseEdition handheld devices for distribution in the UK.
The agreement includesa commitment for BT to order 175,000 BlackBerrys with associated softwareand services, Research In Motion said.
In addition to the BlackBerry product line, Research In Motion makes a line of wirelesshandheld devices, wireless PC card adapters, embedded radio modems andsoftware development products. The company, founded in 1984, has offices inCanada, the United States and the UK.
In its financial report for the third quarter ended November 30th, ResearchIn Motion listed BlackBerry subscriber growth as a "main revenue driver."Revenue for the quarter was 160 percent higher than a year earlier, atUS$61.6 million.
"BlackBerry demand continues to ramp beyond our expectations," Research In Motion chairman and co-chief executive officer JimBalsillie said in announcing the results.
According to Balsillie, the market has accepted BlackBerry for wireless e-mail, and the company is "working hard to ensure that we are able to continue onour current growth path. Strong revenue growth and execution of our business plan continue to be our key focus."
Research In Motion reported third-quarter net income of $1.5 million, or 2cents per share, down from $3.2 million, or 5 cents, a year earlier.
In January, Research In Motion said it teamed up withLotus development to develop new wireless applications. As part of theagreement, Research In Motion is expanding BlackBerry's capabilities toinclude support for Lotus' Lotus Notes and Domino e-business services.