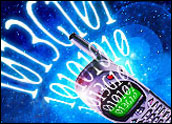 Two reports on the state of the wireless industry indicate strong growth is continuing apace, with handset shipments riding a wave of sales in countries with emerging economies and U.S. mobile carrier subscription rates and mobile data usage continuing to expand.
The reports from Strategy Analytics highlight the continued success of some wireless handset makers in using different types of sales to boost their numbers, with low-cost handsets with basic functionality providing sales growth and slower uptake of high-end smartphones offering profit possibilities.
Strategy Analytics said in its second quarter market report that what it has dubbed the two "mega-vendors" in the handset marketplace — Nokia and Motorola — grabbed a combined 50 percent market share on the strength of booming sales in emerging markets.
Emerging Markets
"Strong growth in emerging mobile phone markets, such as South America and Africa, is driving demand for increasing numbers of entry-level devices, precisely the mass-market segments where Nokia and Motorola are among the strongest," said Chris Ambrosio, director of the firm's Wireless Device Strategies service.
Second quarter shipments came in at 188 million units, up 18 percent from the same quarter last year and well ahead of the 10 percent growth rate clocked in the first quarter of 2005. The firm now predicts 775 million handsets will be sold this year, up from 680.5 million in 2004.
In fact, Neil Mawston, another Strategy Analytics analyst, told the E-Commerce Times that the handset market is becoming more consolidated than ever, raising questions about whether smaller brands can find growth opportunities beyond specialty or regional markets.
Nokia and Motorola took half the market share combined, leaving "more than 60 other brands to fight for the remaining 50 percent."
Samsung struggled in the second quarter, the report said, posting below-average growth of 7 percent, and it now appears to be the firm that most needs a product lineup revamp in order to stay competitive in the long term, despite holding the third largest market share at 13 percent, behind Nokia's 32 percent and Motorola's 18 percent.
Separate Battle, Same War
Separately, Strategy Analytics said the U.S. wireless carrier market is having a strong year in 2005, with market penetration topping 75 percent. By year's end, some 215 million wireless subscriptions will be live in the U.S., the firm said, with revenues exceeding $120 billion.
On that front, the research firm sees more fierce battles for market share, with Verizon Wireless making strong subscriber gains against Cingular Wireless and Sprint overtaking Cingular to lead in the revenue race.
This year will also see mobile data services finally begin to achieve some critical mass after years of anticipation. Strategy Analytics predicts non-voice services could account for some 7.6 percent total revenues.
There have been varied predictions on the short-term fate of the mobile marketplace, with some analysts predicting slowdown of growth in mature markets such as North America, Europe and parts of Asia. However, while recent sales figures have suggested that growth continues, analysts say challenges remain.
"The vendors that can position themselves to find the growth at both ends of the market will be the ones that can thrive," Gartner analyst Ben Wood told the E-Commerce Times. While smartphone sales are rising, they still represent a fraction of overall sales, but are nonetheless important for profitability. At the same time, growth of low-end units will keep sales expanding.
Replacement Phones
"There's little question there will be more demand again for replacement phones in the U.S. and Europe, the question is what the time frame is for that trend to emerge," Wood said.
In the U.S. in particular, data services and other features that require high-speed, next-generation networks have been slower to roll out, possibly delaying the uptake of higher-end, most expensive phones that are outfitted for Web surfing, mobile gaming and music downloads.