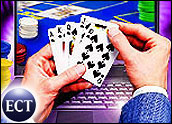 Online casinos are serious about getting people to trytheir luck on the Web. According to a new report by Jupiter Media Metrix(Nasdaq: JMXI), Internet gambling outfits increasedonline advertising 170 percent from December 2000 toDecember 2001, drawing 13.6 million Web users to their sitesin December 2001.
"The growth in online advertising among virtualcasinos indicates that this industry is serious aboutincreasing its momentum and gaining critical mass,"said Charles Buchwalter, vice president of mediaresearch at Jupiter Media Metrix.
According to AdRelevance, Jupiter Media Metrix' onlinead-tracking unit, Internet advertising by onlinecasinos reached 2.5 billion ad impressions in December2001. Casinos are now ranked fifth among 138 onlineindustry segments, behind books, investment, consumercredit and travel.
Going Mainstream
Casino ads now are moving to mainstream sites to lure thebetting crowd. In December 2000, most casino ads appeared on gambling-related sites. A year later, however, 39 percentof casino ads were hosted on portal sites, comparedwith just 16 percent that still appeared on gaming sites.
"The fact that casinos are transitioning their ad buysfrom niche sites to mainstream portals is proof thatthis sector is going mainstream," Buchwalter said.
Quality Time
The next trick for gambling sites, according toBuchwalter, will be to convince patrons to spend moretime per visit. Las Vegas casinos accomplish this task with freedrinks and no clocks, but online casinos will have to try a different tack.
In December 2001, visitors spentan average of 20.2 minutes at gambling sites, comparedwith 35.8 minutes at travel sites, 52.8 minutes at news sites and 62.9 minutes at sports sites.
Who's Betting
According to the report, 55 percent of visitors togaming sites do not have children, and 33 percent usethe sites while at work. Though online casinos havefaced charges of allowing underage gambling,the report found that 73 percent of visitors are menand women between the ages of 25 and 54, while just 8percent of those aged 18 to 24 years gambled online.
Jupiter Media Metrix also found that lower-income Webusers are more likely to gamble. Of those who trytheir luck online, 13 percent have household incomeof less than US$25,000 and 19 percent have income of$25,000 to $40,000. Those two segments represent 11percent and 15 percent, respectively, of the generalpopulation.
The top gambling sites in December were Kcasino.comwith 2.3 million visitors, Webstakes.com with 2.3million, Aceshigh.com with 2.1 million andLuckynugget.com with 1.7 million.
Operating an Internet gambling company is illegal inthe United States (most Web casinos are based in theCaribbean or Canada), but that has not stopped theindustry from booming.