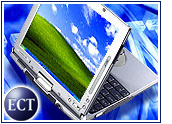 Computer makers sold some 72,000 tablet handheld computers during the fourth quarter, marking a "good start" for sales of what some have hailed as a revolutionary computing tool, according to research firm IDC.
The sales figures represent about six weeks' worth of availability worldwide. About half of all sales were made in the United States, according to the report. Vendors are emphasizing tablets' ability to recognize handwriting and work within many existing software applications.
IDC analyst Alan Promisel told the E-Commerce Times the strong launch makes it likely that first-year sales will hit Microsoft's own target of 500,000 to 1 million units. "I think Microsoft is on track to reach at least the low end of their estimate for full-year 2003," he said.
Over There
Overseas markets, especially Western Europe, Japan and the rest of Asia, have "great potential" as sales venues for the portable computer, according to IDC, especially because the device's form factor can handle Asian language input more easily than traditional notebook computers.
To date, so-called vertical markets, industries in which organizations rely heavily on filling out and processing forms, have driven demand. Promisel said companies in travel, healthcare, utilities and field sales, as well as police and other protective agencies, are among the most eager to adopt tablets.
On the other hand, consumers likely will be deterred in the short term by tablet prices, which range from about US$1,700 for a basic model to more than $3,000.
No Rush
Promisel said the average computer user is not a must-have target market for tablet vendors. However, he added, a rush by early adopters to purchase the first wave of machines helped improve sales numbers for some hardware makers.
"Short term, consumer demand is not critical to tablet adoption," he said, noting that some makers saw faster than expected uptake and subsequently ran into inventory shortages of the machines, which are being produced in small batches by most vendors.
In fact, the real sales flashpoint, which will occur when corporations and other enterprises begin to deploy tablets, is still at least "six to 12 months away." Even companies that agree tablets are a must-have are putting the machines through testing to ensure they will be a solid fit before buying them in large numbers.
Apps To Drive Adoption
Gartner vice president Leslie Fiering told the E-Commerce Times that widespread adoption will be driven more by the ability to extend widely used applications than by the form factor of the tablets.
"The launch focused on the hardware, but the real benefit is the extension of the application environment," Fiering said. "The majority of enterprises and consumers aren't going to rush out to spend money on hardware just because it's new. They need to be compelled by what it can do, and that's going to take longer to unfold."
Gartner has estimated that about 400,000 tablets will sell in 2003, making up just 1 percent of all mobile computer sales. But the firm remains bullish on the long-term impact of the device, predicting that tablets and similar devices will make up more than one-third of the market for mobile devices by 2007.
Early Leaders
The tablet surge was a boon to Hewlett-Packard, which IDC said shipped some 17,000 units around the world, due largely to HP's solid reputation for integrated enterprise systems. Fujitsu, which has been making tablet-like devices for a decade, was in second place in terms of number of units shipped, thanks to its traditional strength in key vertical markets.
Microsoft and the 20 or so hardware vendors that have made tablets spared no expense and little hype in formally launching the device last fall, staging a glitzy event that featured actors, writers and other celebrities explaining how tablets worked for them.
Microsoft reportedly spent $400 million developing the Tablet PC software platform. Company chairman Bill Gates called it a long-term "dream" dating to the founding of the company — and he has earmarked another $70 million for marketing.