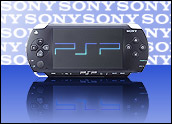 Sony will reportedly launch a video download service for users of its PlayStation Portable devices early next year, a move that could put it into direct competition with Apple's iPod video devices and its iTunes Movie Store.
Sony Pictures Home Entertainment is in negotiations with several possible content distribution partners, including Amazon.com, Movielink and CinemaNow, according to a Financial Times report.
With the service, users could download movies to PCs and transfer them via memory sticks to their PSPs.
iPod-iTunes Challenger
The service could be a formidable rival to the iPod and iTunes because the PSP has been a huge seller, with some 20 million already in circulation worldwide. The screen on the PSP is also larger by about an inch than the screens on the iPod and the new Zune video player from Microsoft, and typically offers higher resolution images.
The device was built without a hard drive, however, which has somewhat limited its functionality.
By using flash memory sticks, Sony believes users will be able to upload and store for playback as many as 10 feature films on its 4 gigabyte memory stick.
Sony may also be mulling a service that would enable direct downloads to the PSP devices, according to reports, using the devices' WiFi capabilities.
From the outset, Sony hoped to make the PSP the first truly multi-functional, video-enabled devices. That effort has been hampered by Sony's insistence on using the Universal Media Disc (UMD) format for video playback. UMD movies can only be played on the PSP.
Sales Boost?
The new initiative may also be aimed at reviving sales growth in the PSP, which was a huge hit upon release late in 2004 and throughout 2005, but has seen sagging sales more recently. It is just one of myriad choices facing consumers who want multi-function mobile devices.
In July, Sony announced it would begin offering memory sticks for PSPs that came with movies pre-loaded. It has also promised other software and hardware updates that would let users turn the PSP into a digital camera and enable it to make VoIP phone calls.
Sony timed the PSP's initial release well, matching a surge in interest in portable gaming devices, David Cole, president of DFC Research, told the E-Commerce Times.
The demand pendulum has since swung back to traditional and next-generation gaming consoles, with Microsoft's Xbox 360, the PlayStation 3 (PS3) and Nintendo's Wii all selling well this holiday season.
With the entire gaming industry set to grow to rival the music industry, even small shifts in market share can mean major changes in revenue and profits, Cole noted.
In addition, Sony is uniquely positioned among the gaming device makers because its parent company also controls a major Hollywood studio, he added.
Merge Ahead?
Sony's strength in the handheld device market won't necessarily translate into digital media dominance, however.
Sony has tried without much luck to develop its own online music offering, and the fact that Apple stole the portable music player market away, leaving Sony's Walkman in the dust, is a reminder that device dominance can be fleeting.
In fact, there was speculation last week that Apple may be considering its own foray into the gaming console business. Prudential analyst Jesse Tortora said in a research note that Apple's addition of video game downloads to the iTunes Music Store lineup suggests it may have designs on the device market.
A multi-function home device could help Apple advance its video ambitions, Tortora wrote, while a handheld version "could be developed as an enhancement for a future version of the widescreen iPod."
Reviving flagging PSP sales could help Sony regain its footing after a difficult year.
Its PS3 lost ground to the Xbox 360 because of production delays that caused it to be released late in the holiday season and in limited quantities. The company also was hit hard by the worldwide recall of millions of its notebook batteries, with Dell, Apple and a half-dozen other PC makers forced to recall potentially dangerous batteries in their machines.