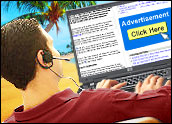 Online advertising revenues continued to expand at breakneck speed in the third quarter, surpassing US$3 billion for the first time in history and growing nearly 34 percent over the same time frame last year.
In their quarterly report on Web marketing, the Interactive Advertising Bureau (IAB) and PricewaterhouseCoopers (PwC) said sales totaled a record $3.1 billion for the quarter and predicted ad sales may top $12 billion for all of 2005.
That would shatter the previous annual record of $9.6 billion set in 2004.
"More and more marketers have embraced Interactive as an essential medium to reach and engage their consumers in more immersive brand experiences," said IAB President and CEO Greg Stuart. "Interactive advertising continues to prove itself as the most cost effective medium in driving sales and changing consumer attitudes."
The recent expansion of online advertising has helped propel Google into the Internet and stock market powerhouse that it is today and brought new attention to Web properties such as Yahoo and America Online.
PricewaterhouseCoopers analyst Pete Petrusky said marketers like the fact that online, the gap between a marketing message and the desired action — purchasing a product or service — is narrower than in any other medium. He also noted that the double-digit growth rate is particularly impressive when the size of the advertising revenue base is taken into account.
Search Still Rules
In a recent interview with the E-Commerce Times, Stuart said multi-media advertising that takes advantage of broadband connections will keep ad spending expanding for some time to come. Showing broadcast-quality video ads will enable marketers to target consumers in a way not possible on traditional television, he added.
That will likely lead to the Internet taking a larger share of the overall marketing budget from major consumer products companies, adding television to the existing list of media — newspapers, magazines, direct mail and radio — that the Web is already seen drawing advertising dollars away from.
For now, however, search engine placement, keyword search marketing and related forms of online advertising are driving the growth, according to the IAB. Though its most recent report did not include a breakdown by category, in September, the group said search made up 40 percent of all online ad revenues, display ads 20 percent and rich media just 8 percent during the first half of 2005.
David Silverman, another PwC analyst, said it's clear that more major advertisers are "realizing the benefits of shifting more of their total advertising budgets to online."
In fact, some say advertisers are eagerly seeking alternatives to traditional TV advertising, where their messages are being increasingly splintered across specialty cable channels and fast-forwarded through by digital video recorder users.
Another Wave Ahead
Analysts note that the surge in online advertising today is the second major wave of interest in using the Web for marketing, the first coming as the Internet matured in the late 1990s and up until the dot-com crash took hold. That surge was built largely on banner advertising and e-mail marketing, while today's expansion is driving largely by search marketing.
Some analysts believe the next wave will be even larger, with multi-media ads bringing targeted video messages to the Internet in droves.
Today, broadband still makes up a small fraction of the overall online ad spend, leaving plenty of room for growth, analysts say.
"Internet video is exploding and advertising will go up along with it," Forrester Research analyst Josh Bernoff told the E-Commerce Times.
Already, many typically conservative consumer packaged goods firms have begun to use the Web for a video advertising platform, a trend that will continue to expand in 2006, he added.